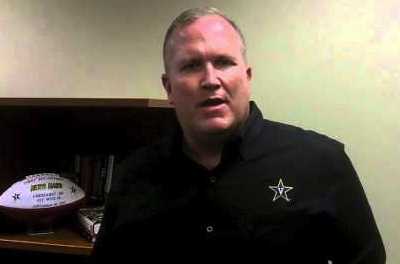 Editor's Note: 
Herb Hand returns for a fourth year to the Commodore coaching staff as offensive line coach.  This past season, the Commodores finished with a 9-4 record- one of the best in program history- including a bowl victory against NC State.  Prior to accepting the Vanderbilt position, Hand worked three years at Tulsa, serving as assistant head coach, offensive coordinator and line coach. Hand helped guide Tulsa to consecutive GMAC Bowl appearances behind one of the NCAA's most explosive spread offenses.  Before joining Tulsa, Hand spent six successful years at West Virginia, serving as tight ends coach and recruiting coordinator under Coach Rich Rodriquez. Hand helped the Mountaineers to three Big East Conference titles and five straight postseason bowl games during the span, including a 38-35 victory over Southeastern Conference champion Georgia in the 2006 Sugar Bowl. X&O Labs Senior Research Manager Mike Kuchar spent some talking with Hand, who has been involved in spread systems since 1999. 
MK: What has been one of the more productive formations you've used in the run game recently?  What advantage does it give you offensively?  What problems does it present to the defense?
HH:  We have had a lot of success running the ball with formations that present the defense with broad blocking surfaces by using Tight Ends and H-backs.  We feel that those personnel groupings give us the ability to create leverage advantages in alignments to run the ball with a variety of schemes (split zone, power, counter, sweep) while also forcing the defense to account for them in the passing game.
MK:  Have you shifted your preference in personnel groupings?  At West Virginia you were more of a 10 and 20-personnel team.  Is talent level the priority in selecting the right personnel or is it more about presenting as many "different pictures" to the defense as possible?
HH:  Here at Vanderbilt, we are a personnel driven pro style offense – what that means is we want to get our best players on the field and put them in position to make plays.  We also want to be very multiple in how we use our personnel.  We want to have the ability to present the defense with a nontraditional formations and alignments from traditional personnel groups. An example we use is lining up in an empty backfield with 22 personnel on the field.  Our philosophy is to get our best 11 on the field and our offense is flexible enough to allow for the use of multiple personnel groupings based not only on production of the players but also on what formations might give the defense the most problems on any given week. We're constantly changing guys throughout the game and we use motions to create leverage advantages or matchup advantages.  It is a lot more of a pro style offense than a spread offense.  We do have some spread components, but we've been able to marry up a lot of those spread concepts with pro concepts.  We want to recruit athletes and use those guys in a variety of different ways so that we can keep defenses on their heels.