By Mike Kuchar
Senior Research Manager
X&O Labs
Twitter: @MikeKKuchar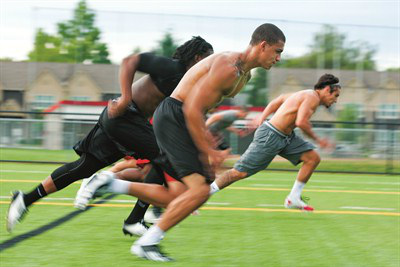 Introduction:
Fact: 63.7 percent of coaches have made changes to their off-season program since going to the no-huddle system. Makes sense right? How can you expect your players to go at breakneck speeds on the field if you're not teaching that pace in the weight room? According to our research, that teaching needs to occur now in the winter conditioning program.
Many of the no-huddle coaches we spoke with specifically credited their off-season development as the main catalyst for providing them the ability to use the tempo they needed in-season to be successful. Although this seemed like a natural progression, we felt that this was a component of football that may be neglected among tempo coaches. So we researched it. We wanted to know that these no huddle coaches were doing in the weight room this winter that helped to generate the endurance, speed and resilience needed to run the no huddle system.
So, the pocket of coaches we reached out to was small. We simply targeted those coaches that have worked with us before on our No Huddle Study special report (click here to read that study). Of these coaches, 40 percent (majority) of them have been utilizing the no huddle between 1-3 seasons. Which means they have drastically changed their weight program recently, the data below is new and cutting edge. Many coaches have cited these programs below as reasons why they've been able to compete and defeat larger programs.
And if you're concerned about space issues in your weight room, chew on this: 81.9 percent of these programs share the weight room with other teams.Now keep in mind this is not strength and conditioning special report. There are no videos of players performing squats, lunges, etc. You don't need us to tell you what these exercises are. A quick search on youtube.com can find that. But we did provide you with something better: In addition to our research, we also provide you with the email addresses of the no huddle coaches featured in this research report, so you can contact them yourself to elaborate on the work they are doing right now to get their program better.
Biggest Change This Off-Season:
We began our research by asking one simple question: "What is the biggest change you've made this off-season in your weight program to accommodate no huddle tempo?" Our findings are below:
High Interval Training (H.I.T.) Reducing Rest Periods:
Coach Priebracha, Montgomery High School (NJ): "We spend our time focusing on reducing rest periods between sets and continual push to 'sprint' through the work out. The entire lifting should take no longer than 45 minutes. Go fast in your reps, speed up your rest, get next lift quickly."
Coach Stichel, Archbishop Curley (MD): "We use a fast paced whistle driven program. We take 30 seconds to complete lift with 15 seconds to change weights and members for next set. It's all done on whistle commands."
Coach Hansen, Hinsdale HS (IL): "The conditioning aspect of the program has been researched, and we have implemented more high intensity interval training (H.I.I.T.). This gets our players used to the repetition of maximum effort for a short time followed by a short rest period. We feel that this type of training mirrors what will take place on a typical offensive drive."
Coach Majeski, Highland Community College (KS): "The biggest thing we have done is cut down the rest between sets in the weight room. The reasoning is, yes, you can do more weight with a longer rest. The person who takes longer rest will have to lighten the load when the rest break is shortened. The person who takes shorter breaks will be able to use more weight when the rest periods are increased. We feel we will get a better overall conditioned player. A strong player that is tired loses strength rapidly. A strong player that is in condition will wear down his opponent."
Anonymous: "We have utilized more metabolic conditioning work, especially focused on work to recovery ratios that mimic a long offensive series."
Using Cross Fit Programs:
Cody Eyerman, William V. Fisher Catholic High School (OH), [email protected]:
"We have incorporated CrossFit type workouts for our explosive training days. We try to use a wide variety of exercises with our workouts; we really believe that CrossFit is a good way to train your body to react to all types of situations. Some of the most common CrossFit moves we use are thrusters (front squat to push press), clean and jerks, box jumps, pull-ups, pistols (single leg squat), explosive step-ups, and explosive lunges. We also incorporate supersets with some regular exercises. Such as bench press with clap push-ups after or squats with split squat jumps after. Other things we may do are add an agility ladder as one of our stations in circuits, med ball abs (middle of sit up position catching a med ball at all different points), and all different kinds of plate raises sometimes on commands as a team for a little extra fun."