By Scott Girolmo - @CoachSGirolmo
Offensive Coordinator
Liberty High School (VA)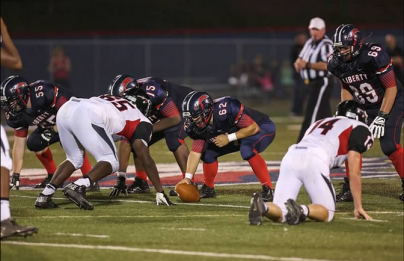 Editor's Note: Scott grew up as a player for his father Steve Girolmo at Livonia High School in Western New York. A graduate of Cortland State (D-III - NY) he has coached at Castleton State College, and Western New England University as well as made stops in high school at his Alma-Mater Livonia and Liberty high School in Bealeton, VA. In 2012 he took over the offense at Liberty and has installed an ever-evolving hurry up no-huddle philosophy that mixes schemes from across the spectrum. As the Offensive Coordinator in their 2013 campaign the Eagles offense averaged 34.2 points per game, and was the 10th ranked offense in VHSL 4A. Scott is a diehard clinic enthusiast and encourages interactive Q & A regarding any of his contributions to the site.
Using 01 ( zero backs and one Tight End) and 02 personnel packages (zero backs and two Tight Ends) have helped to add a very powerful element to our offensive attack and have paid dividends on the scoreboard. In our little part of the football world, we play a very wide variety of defenses. Several of our opponents play defense at a very high level. Among them, we have seen our share of "all in" pressure, and we have also seen disciplined zone-based multi-front schemes. In both cases we have found that our ability to use our empty formations and schemes has been a major advantage. This article will explain how we have designed our formations, protections, and run and pass concepts to exploit space and move the chains. Before we do so, there are some reasons as to why we use the Tight End in empty protections.
Reason 1: No Running Backs? No problem!
At the high school level, our recruiting is limited to our hallways. For this reason, we are not always blessed with well-rounded running backs who are lights-out pass protectors, and explosive runners. Quite the contrary, there are probably a lot of you out there who don't have this card in your hand. You do however have the other elements necessary to run 01, and 02 personnel. Wide receivers seem to grow on trees these days (don't believe me; attend a college camp this summer). Furthermore, the Tight End / Hybrid position is an easy one to fill. Even the most destitute roster has a fullback, a thin tackle or bigger –slower receiver. Thus, 01 and 02 personnel's allow your team an opportunity to play your cards with ultimate effect.
Reason 2: Protect a Playmaker or Utilize a Skilled Blocker
Here at Liberty we have been lucky to have very solid running backs. We do however; ask them to play on both sides of the ball. For that reason, we use these formations and techniques to lower the number of violent blows that they take in protection. We have found that we can save our playmakers and can get a better blocker in the game. That better blocker is often unused in spread, 10 personnel offenses. He is a fullback or Hybrid full-tight end [Diagram 1]. Utilizing these formations is great way to incorporate that kid in the schemes we already employ.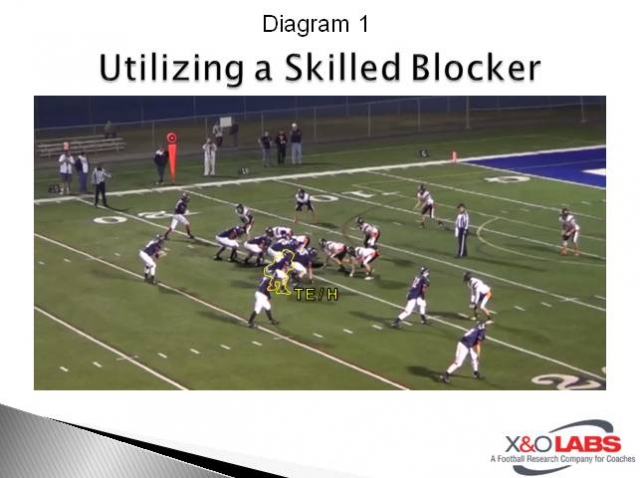 Reason 3: Dramatic defensive responses
Finally, I have found that empty formations typically draw a very dramatic response from defenses. Defensive coordinators seem to fall under one of two schools of thought vs. empty. The first is to immediately check to man and blitz 6 in an attempt to get us OUT of empty [Diagram 2]. The other polar opposite adjustment is to check to the softest most base coverage and front that they have [Diagram 3]. In both cases, we have an opportunity to exploit the defense based on these very polarizing reactions.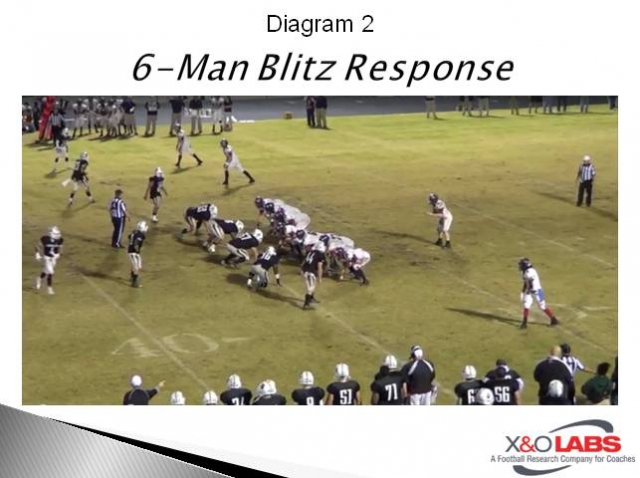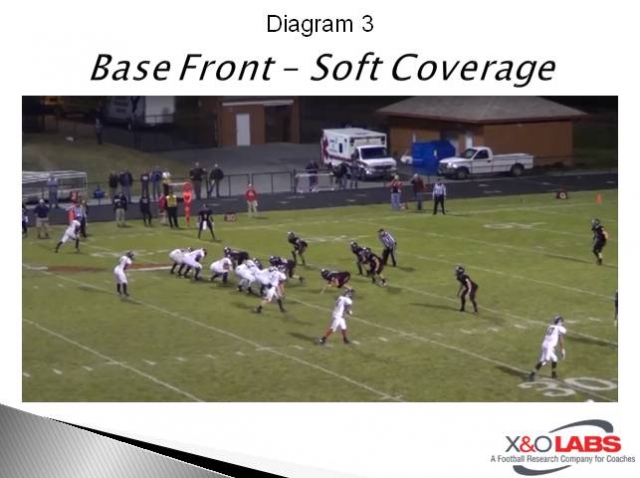 USING THE TE in EMPTY PROTECTION
Our biggest reason for calling 02 personnel is to attack the high pressure defenses on our schedule that play man coverage. After researching the way in which our successful opponents' defenses were pressuring, we discovered that there was a unilateral trait. At the high school level, QB pressure is predominantly created by strong edge rush [Diagram 4]. In fact, in most cases all that was needed to rush throws were two fast edge rushers – interior pressure was secondary. Recognizing this, we retooled our protection schemes to incorporate the two Tight Ends. The extra gap on both sides has created a more stable pocket for our quarterback, and made it much more difficult for our opponents to overload our weak side – which had previously been very effective against us. With 3 receivers wide, this still allows us to align in multiple formations and create favorable 1 on 1 match ups [Diagram 5]. Coupled with our ability to screen, and go no huddle hurry-up the 02 personnel formations have given us an edge against these ALL-IN style defenses.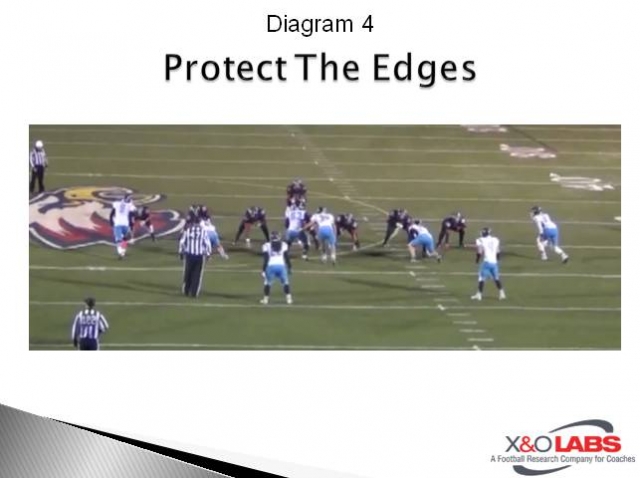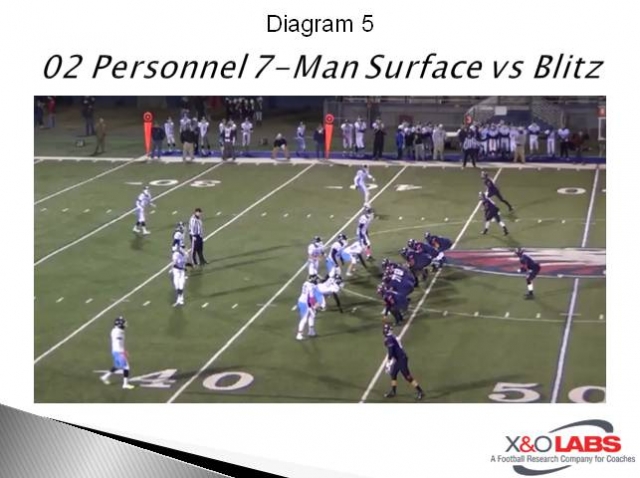 Pass Protection Fundamentals:
When I was a graduate assistant at Castleton State College, our Head Coach Rich Alercio used to emphasize the importance of a perfect protection demeanor, and the use of power angles. Editor's Note: Rich Alercio further developed this with XandOLabs.com in his Concept Blocking System which can be seen here. Thanks to him, I have been able to pass along some awesome coaching points to our kids. We still believe posture is paramount, and so we recite the following teaching cue to our guys until they are sick of hearing it. "FEET OUTSIDE OF KNEES – KNEES OUTSIDE OF HIPS – BIG BUTT – BIG CHEST!" Coach Alercio used to describe the powerful angles of a pyramid when teaching this concept, and we do the same, consistently reinforcing the importance of demeanor [Diagram 6]. Whether you utilize a two point stance or three point stance, the following cues can help you to dial in on the little things that put players in position to protect. The following is what we emphasize in the stance.