By Mike Kuchar
Senior Research Manager
X&O Labs
Twitter: @MikekKuchar
Editor's Note: The following research from X&O Labs' special report, The Quarters Coverage Study, which can be accessed in full by clicking here.
Safety Pre-Snap Reads: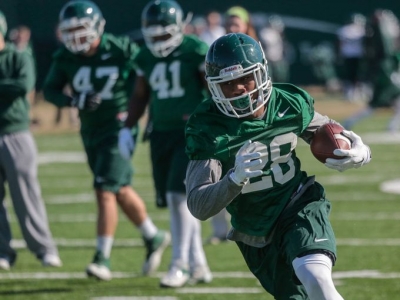 It's important to note that the alignments of safeties in Quarters Coverage will depend on how many receivers are to their side of the formation. Remember that Quarters coverage is a "mirrored" coverage, where one side of the secondary is working independently of the other side. Because the offense can present various looks to each side of the formation, we will detail the changes in alignment in Case 2 and Case 3 of our report. Here, we'll start with fundamentals and techniques of those safeties and how you can get them more involved in the run game.
When we conducted our research, we found that 63.4 percent of coaches teach their safeties to read the EMLOS (End Man on the Line of Scrimmage) for a pre-snap read, regardless of the formation. According to these coaches, the EMLOS will dictate whether its a run or pass concept by firing off the ball with a low hat (run) or extending off the ball with a high hat (pass).
Adam Waugh gives his safeties the allusion of "a pane of glass" that will indicate whether it's a run or pass scheme. "He looks through the 'imaginary' pane of glass that rests along the offensive line," says Waugh. "If that offensive tackle breaks the pane of glass, the safety plays run. If that offensive tackle only 'bumps' the plane of grass, then he plays pass. The 'don't go if you don't know' philosophy tells the player to play pass if there is any indecision." Waugh did mention that he would change the reads with his safeties sometimes on a weekly basis depending on whom they were playing. "When I was at Army, and we used to play some monstrous offensive linemen at Boston College, we would pick the 6'7" tackle who can't bend and say that he was our read," said Waugh. "But with these quicker, more athletic Spread teams it became difficult to decipher."
But, while conducting our research, we've found that the high/low hat philosophy can become convoluted, particularly with the technique of offensive linemen in Spread offenses. Often times, it's difficult to decipher whether or not safeties are getting run or pass reads because linemen do such a good job of "selling" the run on pass concepts. This is why we've found many coaches starting to read more than one linemen in deciphering their run or pass reads.