By Peter Bisson
Wide Receiver Coach
Pasadena City College
Twitter: @TheCoachsCorner
Introduction:
Like most coaches, I am always looking for ways to fit their base scheme to their personnel. When I first took over as the Offensive Coordinator at Heritage Christian High School, it was apparent that we would have the three running backs more suited for a down-hill power run years. After much research, we settled on a shotgun diamond formation and a tight bunch formation with minimal changes to the current set of rules in our power run series: Power Option, Fold Option, Fold Read and Iso Read. Today we are going to primarily focus on the Fold and Iso Read variants.
This formation/concept fit because we had a couple of quarterbacks that, while not necessarily burners, could effectively run the ball. It also allowed us to remain a shotgun, fast paced, no-huddle team, so I began looking a little more closely at the pistol game. We felt that this change helped us keep the scheme as simple as possible for the offensive line by combining our power game with our read and read option game. I also wanted to ensure we could run them all from a balanced set that did not require pre-snap motion.
During the process, I spent a considerable amount of time analyzing pistol sets, especially the way the San Francisco '49ers ran its Iso Read. I have found that NFL Game rewind can be an effective tool to help diagnose and determine if something run at that level can be effectively incorporated into my current scheme. The coaches' film angles are extremely helpful.
Editor's Note: X&O Labs' exclusive Pistol Formation Study is located here.

Installation Plan:
Before we even consider teaching the variations, our first goal is to ensure the offensive line is solid on the base plays. We also make sure both Varsity and Junior Varsity (and Freshmen) teams are using the exact same rules for our power blocking schemes. Base alignments for all players involved in the diamond set are as follows:
Guards/Tackles/TE(Y)

2 ft. splits, ear hole even w/ hip of the center

Outside Receivers (X/Z)

Ball in middle of field: Top of Numbers

Ball on near hash: 1 yd. Outside Numbers

Ball on far hash: Split Distance between Number and hash

Running Backs(H/Y/A)

Split backs – Toes at 5yds behind inside leg of OT

Pistol – Toes at 8yds behind Center.

Quarterback

Heals at 5 yards directly behind Center.
When installing scheme, the first thing I teach my offensive line is the defensive lineman alignments (Diagram 1).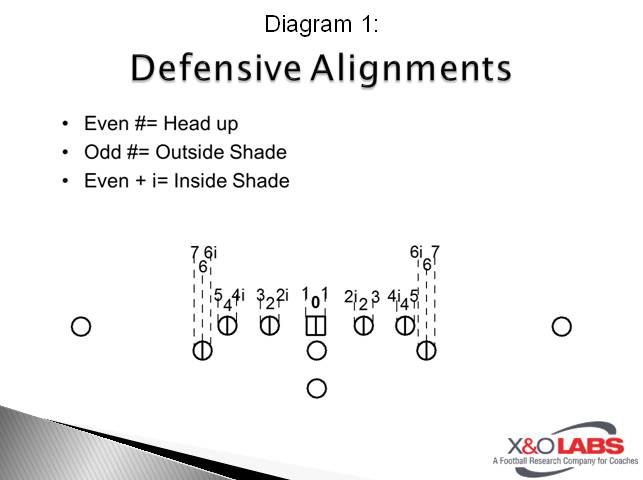 Fold Concept:
Here is a breakdown of the rules for our Fold concept, which also serves as the base play for the progression we are going to look at in this article.