By Mike Kuchar
Senior Research Manager
X&O Labs
Twitter: @MikekKuchar
Introduction: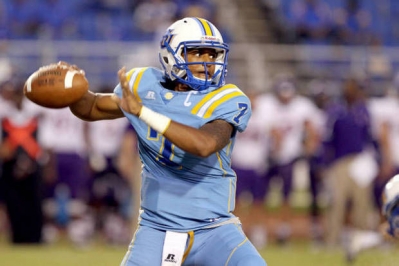 It's no secret that the four vertical concept is the most popular pass scheme in football today, at least not to the thousands of coaches that completed our survey on spread pass concepts last month.
In fact, 38 percent of these coaches said it was their most utilized pass concept last season, over ten percentage points higher than Snag, Shallow or Mesh concept. It seems the proficiency of the concept was increased as well. 47 percent of coaches, the majority, said this concept netted between 11-15 yards per completion. We all know it can be a homerun ball if executed correctly, but the execution of this concept is what we wanted to uncovered. We found the concept is easy to install but harder to master.
Before we divulge our data, it's important to note that we already conducted a two-part research study on the four vertical concept some time ago, which could be accessed below:
Four Verticals Study - Part 1
Four Verticals Study - Part 2
While these reports relied mainly on the quarterback progressions and route structure of the purely linear four vertical concept, this report is centered on the various tags coaches are now using in the concept as it relates to the outside receivers, inside receivers and the back. While the four vertical concept can be utilized with a multitude of formations, we did find that 84 percent of coaches are still utilizing the scheme out of 3x1 open and 2x2 open spread formations. So, much of our research and diagrams will be focused on those structures.
Case 1: Running Back Tags
We wanted to start our research on discovering what four vertical teams are doing with their back if he's not tied to protection. Seven on seven tournaments are filled with coaches who decide to match the back on a linebacker, but we've found this route often goes unnoticed on Fridays and Saturdays in the Fall. So, we reached out to a select group of coaches who do utilize the back in the concept and practice what they preach.
Stay Route Tag
Jeff Russell at Wethersfield High School (CT) uses a stay route with his back in his four vertical game. He can either start from the backfield or motion to line up behind one of the outside receivers to execute it. If the flat defender rushes out too quickly to defend it, the bender route on the inside opens up (Diagram 1). If the corner or deep third defender comes up to defend the stay route behind the line of scrimmage, the outside release vertical route is hit in the hole before the safety.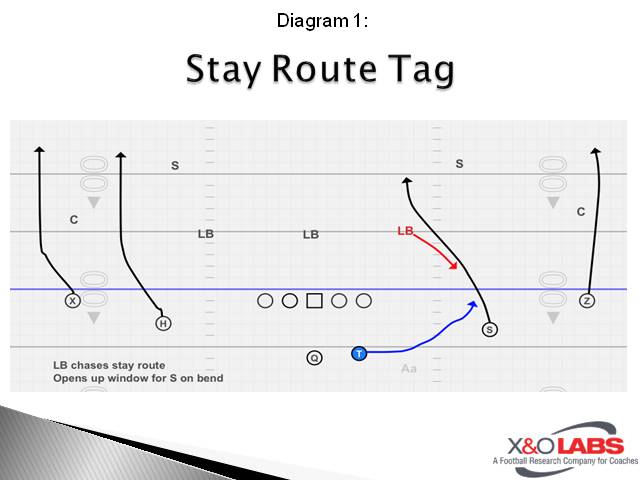 "If teams adjust by bringing players over, we'll either get a great one on one matchup backside or we'll motion a fourth receiver to that side and get three vertical routes with two benders and one perimeter on the same side as the stay route and we'll take advantage of the most displaced defender," Russell told us.
Cross Route Tag
Scott Anderson, the offensive coordinator at Pearl River Community College (MS) will use both a cross and angle concept for his back based on the action of the middle hole player. It becomes more of an option route for the back.
"Our cross route is a drag back across field to window over ball,"said Anderson. "We run the route to go under (but towards) the bender. However, against Tampa two coverage, we try to break at a 45 degree angle."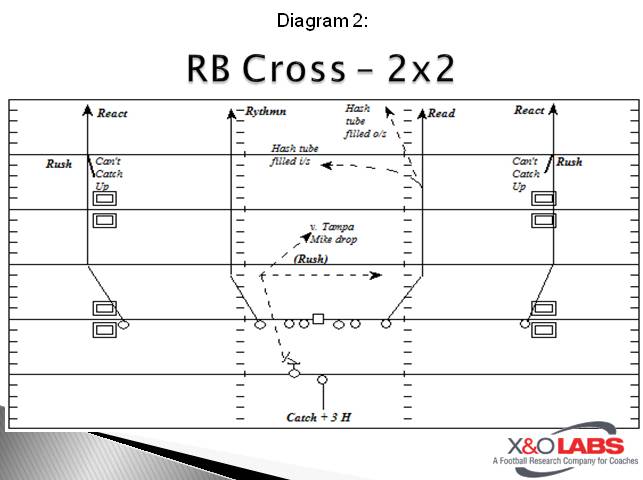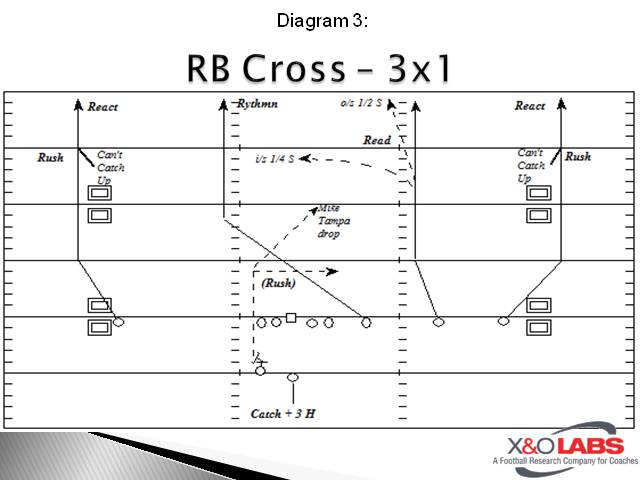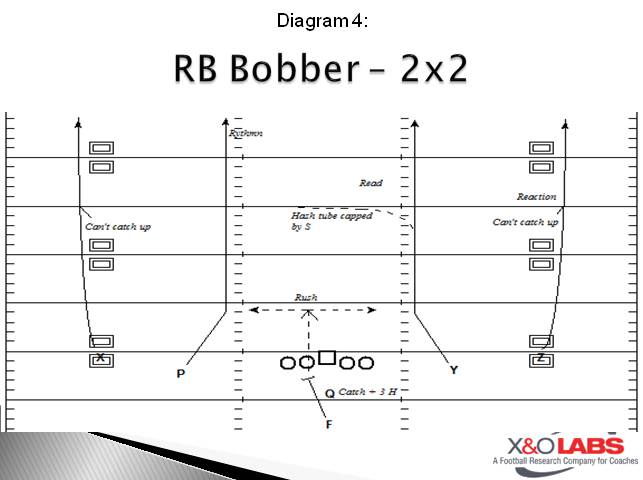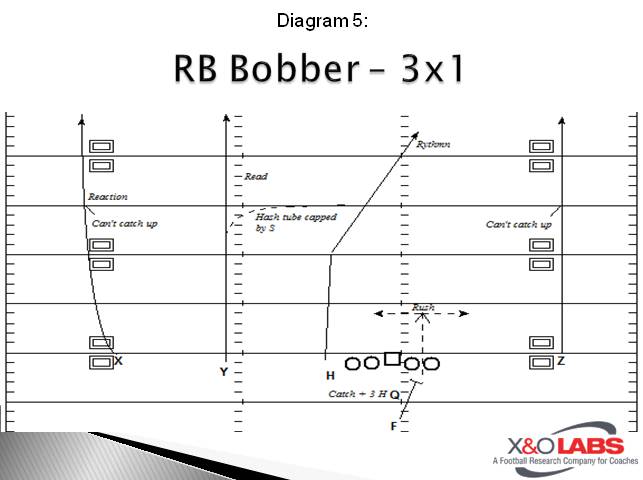 Kim Nelson, at Roosevelt High School, will also use motion to free up the back in four vertical concepts. "We usually run him in motion to create a trips formation from 2x2 formation," said Nelson. "If not, we have him work outside release on the outside LB, (or whoever is re-routing him) lean hard to the inside and out run the defender (Diagram 6). Motion works best if he can't avoid the re-route."