Kyle Schmitt
Head Coach
Atholton High School (MD)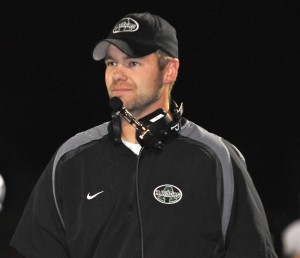 Editor's Note:  This is part 2 of Coach Schmitt's series on the his Pistol Zone Run Series.  To view part one,

click here

.  Coach Schmitt has put together a 38-9 record through 4 years as the head coach at Atholton High School.  During that time, his teams have won 1 County Championship and appeared in three Regional Championships during that time.  Prior to his time at Atholton, Coach Schmitt served as a graduate assistant at the University of Maryland and as Tight Ends coach at St. Vincent College (PA).
This season we had a talented Slot Receiver/H-Back who allowed us to move from 1 to 2 back sets without changing personnel. As a No Huddle offense, keeping the same personnel on the field permitted us to constantly operate at a fast tempo. This also opened up the opportunity for multiple backfields and variations on our Zone Read Play as well as Power/Counter.
Zone Bluff
The Bluff action is very similar to our Slice play. The H-Back will cross the formation post snap but will avoid the EMLOS and block the first 2
nd
level/alley defender that he comes across. He is the lead blocker if the quarterback keeps the football. We are now reading the EMLOS. The Bluff play is beneficial versus aggressive defensive ends or teams that are squeezing their ends to take away the zone dive.
Blocking Assignments
| | |
| --- | --- |
| Z | Block Most Dangerous Man (Bubble/Key Rules if attached to call)- If Bluff side block man over |
| Y/F | Block Most Dangerous Man (Bubble /Key Rules if attached to call)-If Bluff side block man over |
| X | Block Most Dangerous Man (Bubble /Key Rules if attached to call)-If Bluff side block man over |
| Y/F | Slot – Block Most Dangerous Man (Bubble/Key Rules if attached to call)FB – Always aligned frontside. Read the Defensive End. If DE up field get inside the End and block the most dangerous second level defender. If DE crashes bluff the End and block the most dangerous second level defender. If read is unclear bluff the End. |
| H | Zone Read FootworkRead – Frontside A gap to Backside A gap. 1st DL outside of BST is unblocked Read Player.  Run thru arm tackle |
| PST | Zone rules playside |
| PSG | Zone rules playside |
| C | Zone rules playside |
| BSG | Zone rules playside |
| BST | Zone rules playside |
| QB | Zone Read FootworkRead – End man on the line of scrimmageIf pull read follow the bluff players block. |