By Mike Kuchar
Senior Research Manager
X&O Labs
Twitter: @MikeKKuchar
Editor's Note: The following research was part of XandOLabs.com special report on "Developing an Effective Pressure Check System." The full length report can be found here.
Introduction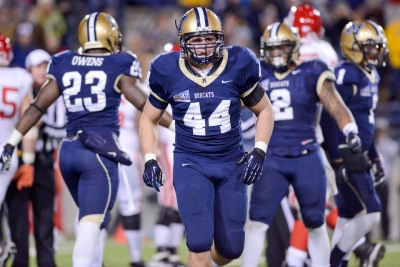 A two-man surface clearly eliminates an extra gap in the run game, which is probably why many coaches prefer to blitz the two-man surface in passing situations. However, we did find that some coaches are using a two-man surface pressure to affect the run game, but not the weak side run game. Montana State defensive coordinator Jamie Marshall uses what he calls "backer" check, which tells the bubble linebacker in his four-down front to pressure the B gap. It's a solid first and second down call in the run game and fits well against 11 personnel run game. It's a three-deep, three-under pressure out of the four down front.