By Eric Struck
Special Teams Coordinator/WR Coach/JV Head Coach
Washington High School (SD)
Twitter: @EricStruck
Introduction:
Touchdowns are obviously a great momentum boost for your team so why not take advantage of that momentum on the scoreboard by going for two if the defense is unprepared. Using the PAT as an extension of your offense can be fun for your kids and cause headaches for the opposing teams.
Philosophy
I have been the Special Teams Coordinator at Washington High (SD) the past two seasons. When I was given the job, I had three philosophical goals in mind:
Do things that set us apart from the competition

Make special teams fun and exciting for our players

Use schemes that gave us an advantage on game nights
Using the PAT and creating different formations while using the same set of checks on a week in week out basis accomplishes all of those things for us. When we first install PAT, we start with a basic formation that we will tweak from week to week.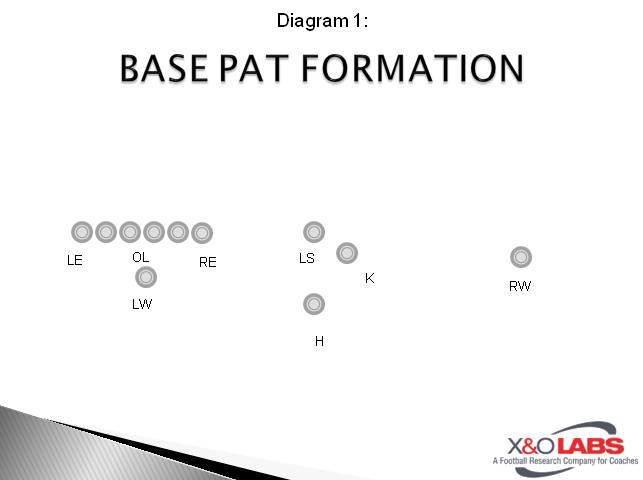 We will install 4 basic checks that we will use determine what our course of action will be when we get lined up. Those checks will be consistent throughout the season and we may add or tweak things as we go along. For our checks, the Holder will look to the sideline at me and after I survey the defense I will give him a signal if we want to run a play to go for two points or if we will line up and kick it. I give a arm/hand signal that tells the Holder what we want to do then he will call it out to the rest of the PAT team. It is important that they get lined up quickly so that we have enough time to survey the defense as well as get lined up to kick if we need to.