By Ryan Montalvo
Special Teams Coordinator / Secondary Coach
Dulles High School (TX)
Twitter:
@Coach_Montalvo
Field goal block can be an overlooked aspect of the kicking due to it usually occurring right after your defense just gave up a score. Getting scored on by your opponent can shift the momentum of the game away from your team but blocking the PAT can swing it right back to you. We developed a simple scheme at Dulles High School that allows us to block field goals from the right or left without confusing our athletes and allowing them to play fast.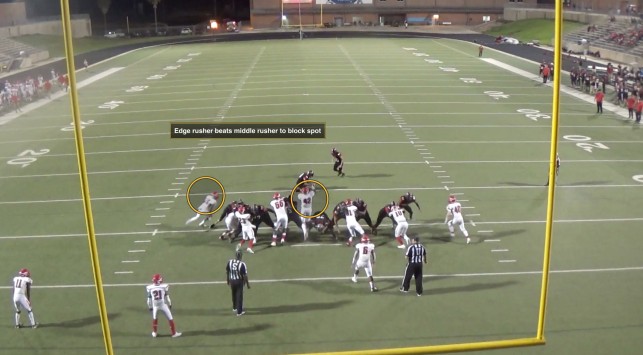 Assessing Personnel:
The first thing we do when we start to personnel our field goal block team is, we try to find kids who have a great takeoff and are willing to layout to block a kick. We start this process early in fall camp while we are evaluating kickers, punters, holders, and returners as well. We want to sub as little as possible, so trying to find a defensive player to be the edge rusher is a huge point of emphasis when looking for the guy who is going to come off the edge.
Our scheme is simple but can give you multiple block points. We want to be as sound as possible to deter teams from running successful fakes. Our block is a combination of an edge rush with an A gap slip that makes teams tighten their splits to give us a shorter edge or block out on the edge rusher and widen the interior gaps. Our scheme is the same no matter which direction we want to block the kick from. If we're going to change which side we block from, our whole unit flips to simplify the scheme. This allows us to teach the entire defense the scheme so no matter which players are on the field, they can execute the block we call. We were fortunate enough to sub-two players at most depending on if they were on the field during that defensive series. Best case scenario they were both in the game, so we didn't have to sub at all.