By Mike Kuchar
Senior Research Manager
X&O Labs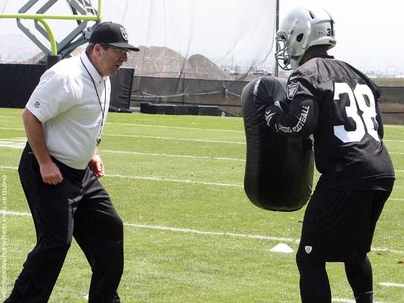 Now entering his 22st season as an NFL special teams coach, and his first with the Oakland Raiders, Bobby April has been known as one of the premier special teams coaches in the country. His units with the Atlanta Falcons, Pittsburgh Steelers, New Orleans Saints and now the Raiders have been consistently among the most productive in the league during his tenure in each of those organizations. Recently, X&O Labs' Senior Research Manager Mike Kuchar was granted exclusive access to Bobby April. This Q&A reveals the details of that meeting – a meeting focused on building a dominating kickoff unit.
MK: Coach April, it's a pleasure to speak with you. Please identify three to five qualities you look for when selecting kick coverage players?
BA: The first thing he literally has to be able to run fairly well because there is so much space that has to be covered. It's an open field play. Generally they are going to be more like defensive backs or linebackers taking on a screen. The point is they have to be close to the ball in order to have any success. You don't necessarily need the toughest guys because your toughest guy may be your left tackle who weighs 300 pounds. You always have a dilemma between toughness and the speed factor. We're not talking about combine speed or 40-yard dash speed. I mean functional speed. I'm looking for guys that play hard, and are explosive, sudden with decision, sudden with separation from blocks. They may only run a 4.8 but they run at a franatical pace. You may have a guy that runs a 4.5 but doesn't want to get down there every kick. Most teams don't have enough of them, so you are going to have put guys in fold or contain positions to fill out the team. We want to strike and be sudden with taking on blocks. They may not make the play but if they're the first guys down they may be able to disrupt the dynamics or disrupt the pattern of the return. You have guys on your team like that and you have to get them on your kick off team.
MK: What is your general philosophy behind kick off coverage?
BA: You have to treat kickoff coverage like it's a goal line play. You need to get people up the field. As you take the best path to the ball, you have to make sure you have inside and in front leverage to the ball. If you don't, that's not the best path. You have to arrive at the ball with inside shoulder force and inside leverage on the ball. If there is an obstacle in your way, you have to make a decision on how to evade or beat that obstacle. If there is a great distance between you and the ball, you have more freedom to use space to your advantage to get away from him. If the ball carrier is to one side of the blocker and you are opposite, if I'm going around him and going backdoor I can do that as long as I can recover and take a best path to make a play on a head across tackle (similar to a pull scheme as a down lineman, come underneath). You're not going to get 10 trained killers on there, so you're always trying to nurture those guys more than anything else. It's more about coaching attitude than technique. Special teams have more mental obstacles than anything else. It's always been obstacles that players have to overcome to realize special teams are important.
MK: What is the negative stigma that surrounds special teams? Does it still not get the attention it deserves from coaches and players?
BA: I tell them right from jump street, 'look, you have not been rewarded in your career from playing on special teams - there were no scholarships for you. You got a scholarship because of offense and defense. Nobody rewarded you based on how you blocked on the front five. In fact, none of those coaches probably even seen you block on the front five. We drafted you in the second round because of how you played linebacker, not how you covered kicks. But we still need your talent to go out there and bust your ass on this play. Your reward is a win. Mentality there is 'no, I'm here to play linebacker. That's their mentality. That's what you need to overcome. That isn't any different now than it was in 1991 when I came into the league.