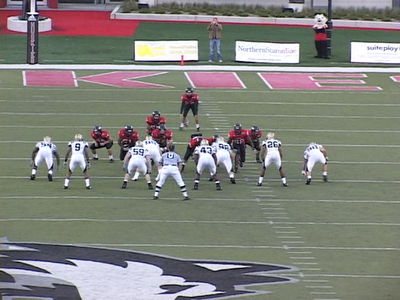 By Sam Nichols
Managing Editor
X&O Labs
We wrap our research with exploring those circuits used with the Punt unit. We found this special team to continually be evolving, especially considering the trend of many programs varying the structure of its punt units. So, before we inquired about circuits, we were interested to find out which type of punt most programs are implementing. What we found is that 54.1 percent of coaches are using more of a spread punt format, compared to 32.5 percent that use a traditional punt structure and 13.4 percent that are dabbling with the Rugby style punt.
Once we gathered that information, we were curious too find how many coaches were using punt circuits as a form of instruction. While we found that the number was merely split down the middle- 52.9 percent of coaches are in favor- the ones that were using circuits spoke favorably about its advantages. Here is what they had to say:
"In the past 7 years since going to the circuits we have only had 2 punts blocked." - Rick Ward, Covina High School (CA).
"Our greatest improvement at my current school is on both punt protection and net punt from year one to year nine. Although the quality of the punter is obviously important, our first 2 years (2004 to 2005), we had 3 punts blocked and the difference between our gross and net was much greater despite having an all league punter. The last 4 years (3 different punters make 1st/2nd team all league), we have had no punts blocked, and our gross to net has narrowed to less than 4 yards difference (in 2012 - gross of 39.7; net of 36.1). In addition, we have greatly improved the quality of our long snapping and punting all through our program. We have had one punt and one field goal blocked at any level since 2009 when we made a greater emphasis on these circuit skills." Steve Hopkins, Basehor-Linwood High School (KS)
"Using the circuits have helped us to improve statistically in the 3 years I've been here in most categories. For example, Punt Return had 4 blocked Punts last year and 2 TDs, block and cover circuits 3) Only allowed 0.5 yards per Punt return (cover circuit) 6th best in country." - Marty Hoffmann, Minnesota State University Moorhead
"Using circuits teaches our guys the fundamentals of kick coverage. I believe the technique of covering kicks and the effort required far out weighs the specific scheme. Out of our main 8 circuit drills, 5 of them deal with kick coverage. 3 of those work good on good. The first step in punt coverage is releases off the line. We work against both single and double gunner looks. One of our kickoff coverage drills, "Lions & Gazelles" (which is documented in Case 3 of our special report) teaches our guys to win with speed, and to get off blocks quickly, while maintaining balance and pad level. On Wednesdays, we work our "Widen Hole + Tkl" drill which is a perfect simulation of punt coverage. The cover guy must squeeze to a landmark while the punt return team is working on widening the hole in a middle return. At the end of the drill, the cover guy must come under control and refrain from running past the returner. Our "Vice Tackling" drill done on Thursdays teaches our cover teams to understand leverage and compressing the returner. Cover guys must understand where their help is and maintain proper leverage without getting split by the returner." – Brian Morgan, Prairie View A&M
Punt Protection
One of the more detailed submissions on punt protection was provided by Michael Cieri, the special teams coach at Montclair State University (NJ). Cieri uses a Wing Punt formation and teaches his man protection very similar to what offensive line coaches will use. The technique of the blocker is all predicated on what alignment the defender is in. If the defender is what Cieri calls a one alignment (inside shade) or two alignment (head up) the blocker will execute a power step inside followed by a dig step- very similar to pass protection. If the defender is in a three position, or outside shade, a kick slide may be used in this situation by the blocker.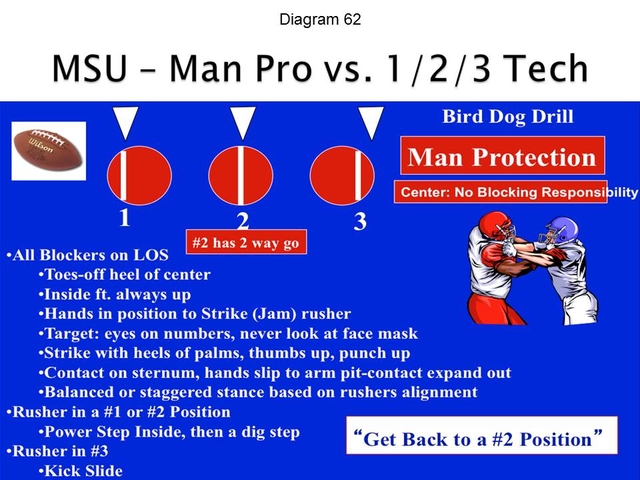 In order to drill this technique, Cieri uses what he calls the "sink drill." This teaches players the proper technique on protecting the punter. Once they are forced to block two to three potential rushers, Cieri teaches the following techniques: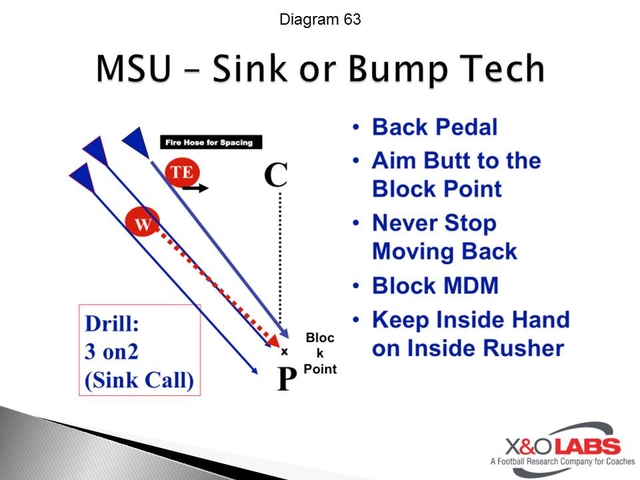 In order to assess punt coverage techniques, Cieri works what he calls his 2 on 1 Drill, which pits two rushers against a blocker. Here, the blockers must be able to sink, get depth and leverage both blocks. It's a good drill to protect against teams that overload gaps in a punt block scheme.
To see video of Montclair State University's 2 on 1 Sink Drill, click on the link below: