By Tyler Hales
Head Coach
La Jolla Country Day School (CA)
Twitter: @Coach_Hales
Introduction: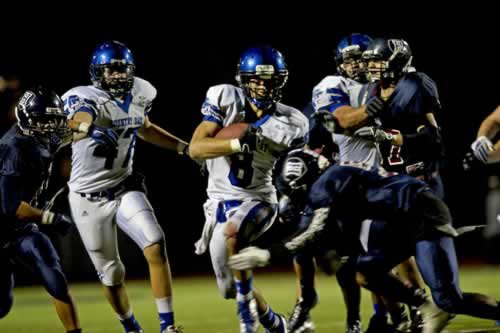 Over the past few years there has been a lot of talk about the no-punt philosophy thanks to the great success of Coach Kevin Kelly at Pulaski Academy (AR). Coach Kelley has done a tremendous job explaining the reasoning and benefits behind this uncommon strategy and his analysis was something that I researched extensively when I took over as head football coach in January 2014.
Our 4th down philosophy ("never punting") not only fit our desire to play aggressively on 3th down, but it also best suited our personnel. Over the past two years, we have implemented this philosophy with great success. In 2014, La Jolla Country Day won the first 11-man CIF title in school history and in 2015 we lost in the CIF semi-finals to the eventual State finalist Coronado. Additionally, we averaged 4,476 total yards and 423 points per season since making that change. That is over 800 yards and 40 points more than the average over the previous 9 seasons.
There is no doubt in my mind that consistently going for it on 4th down has led to this offensive improvement. But the analytical part of me wanted to make sure that the numbers matched my gut feeling. This article will dive into our philosophy and the numbers that support the use of this approach at La Jolla Country Day.
It Starts with Assessing Personnel
A few other coaches and I had talked about the no-punt philosophy for a few years, so when I took over the program we immediately began to seriously discuss this approach for our varsity squad. While on paper this philosophy looked great, we wanted to really do research and a self assessment to make sure we were ready to take on this style of play. While we scoured the internet to read everything we could find about not punting, we also took an in depth look at our roster. We were coming off our worst season in over a decade (2013), finishing 5-6 and losing in the first round of the playoffs for the first time since we became 11-man in 2005. Our 2014 team would have some good senior leadership but was relatively inexperienced and very undersized. The question we asked ourselves was what do we need to differently to compete in our tough league and in playoffs?
In assessing our personnel, it was obvious that our strengths were going to be on the offensive side of the ball. We had a returning quarterback who had started every snap as a freshman and is one of the most highly recruited QBs in the nation. Surrounding him in our air raid offense was a group of good receivers and running backs. Conversely, our defense was going to be young and inexperienced. We surmised that we were likely going to be counting on our offense to lead the way in 2014. Add in the fact that our punting game in 2013 was unimpressive, averaging only 28.5 yd/punt and you can see why we were looking for a different approach.
After analyzing the research and our personnel, we decided that we were ready to be "all in" on the "never punting" philosophy. With our personnel and with the data in mind, we wanted to keep the ball in our playmakers' hands and keep the ball rather than voluntarily punting. The prospect of having a 50% chance of converting the 4th down rather than give our opponent the ball 20-30 yards from our spot simply made sense to us.
Defining Our 4th Down Philosophy
Of course, we knew there would be challenges in implementing this philosophy. As Coach Kelly has discussed in detail, getting your people to buy in is huge and players typically aren't the ones you need to worry about. One of the biggest challenges our coaching staff discussed was those "what if" situations.
For example, it's late in the game, we are up by 2 points and backed up in our own zone facing a 4th and long. To address situations like this, we had a contingency plan of bringing back what we called the "field goal punt," which is a little known rule in HS that you can line up your FG unit and simply kick the ball as if you were kicking a 90 yard FG. Because this is a scrimmage kick it ends up like a punt and the return team can return the ball from wherever it lands (which in our plan was out of bounds). Doing this allowed us to still be all in on going for it on 4th while also giving us flexibility in certain situations. We also had our QB practice quick kicks once a week as another options to utilize in certain scenarios. When we presented our plan to not punt to the team on day one of fall camp, I allowed players to process this philosophy and push me with questions. After about 15 minutes of this discussion, players were excited and ready to go.
Here is a look at our complete "Philosophy" that all of our staff is agreed upon going into the season:
Torrey Football: 4th Down Philosophy and Guideline
Philosophy:
We are an aggressive 4th Down team.