By Chris Fore
Special Teams Coordinator
Sultana High School (CA)
Twitter: @coachfore
Introduction:
Punt return is a critical play when it comes to stealing yards in a football game. In 2014, we improved our average start from the 34.48 yard line to the 45.05 yard line, an increase of 31%! We returned three punts for touchdowns, up from just one in the previous season. We increased our average return per punt from just 5.5 yards to 19.38 yards, the best punt return average in the state of California, and in the top 10 in the nation. The following year we found similar games at a different school Sultana High School (a new school), where we increased punt return yards per attempt from 7.25 to 14.66.
Think about that difference. We DOUBLED our punt return yards every time we touched the ball. (Meanwhile we cut our opponent's punt return average from 15.8 to 2.3!) Our average start after punts was the 35.03 yard line, 6 yards better than 2014. We cut our opponent's average start after punts from the 37 to the 26.09 yard line, a difference of an entire first down! So, add our improvement of 7.41 yards per punt plus taking away 10.91 yards per punt from our opponent, and we improved our field position by 18.32 yards during the punting game.
Doubling Gunners:
The traditional pro style punt, two gunners who are out wide, 2 wings, 5 linemen, personal protector, punt is my absolute favorite scheme to see on film before we play a team. Why? Because I've got what I think is a great Punt Return to gain some dynamite yards.
There are strengths and weaknesses with every single football play. I think that the Pro Style punt is the absolute worst way to punt the football. Usually, there are only three players (the gunners and the long snapper) heading down the field at the snap of the ball to tackle the returner. The other eight players are a part of the kicking process, with seven of them blocking for the kicker. So, you have two pretty fast players running down to tackle the ball carrier, and usually a lumbering long snapper. That is the strength of this punt: the gunners. It's very difficult to keep these gunners from getting to your ball carrier. It is hard to ask one player to go backwards while also blocking somebody who is going full speed forwards.
So, we don't! We double team the gunners. Let me show you how I like to attack the pro style punt scheme.
In the second week of our 2015 season, we faced one of the absolute best punters I've ever seen in 15 years of coaching this great game. Better yet was how fast his gunners got down field. The week before we played them, they had just HUGE change of field position plays every time they punted. In fact, through 4 punts in week 1, he averaged 46 yards per punt.
My favorite thing to do as a Special Teams Coordinator, outside of game night, is to analyze film in order to put together a game plan. I always ask: how can we line up against this play, and have success? Against this specific team, with their gunners, I knew that we had to double team them to have a chance.
The results were drastic. We cut their Net Punt Yard Average from 46 yards per punt t0 20.66 yard per punt! We cut their punt average in half, and then some and, more importantly, we won 26-17.
Here is what we drew up for our opponent, in order to double the gunners. We drew it up both left (Louie) and right (Ralph)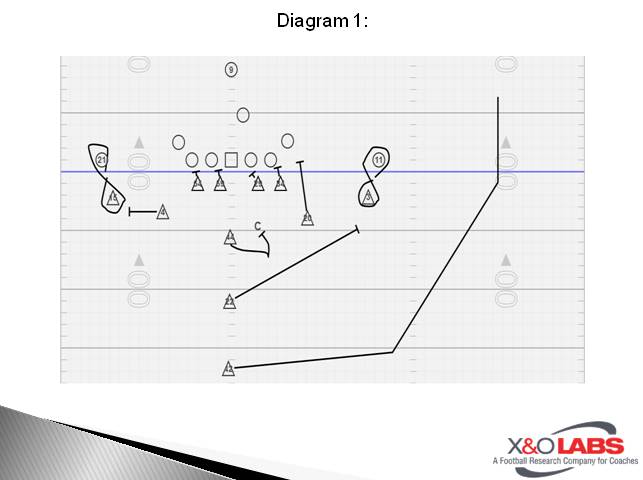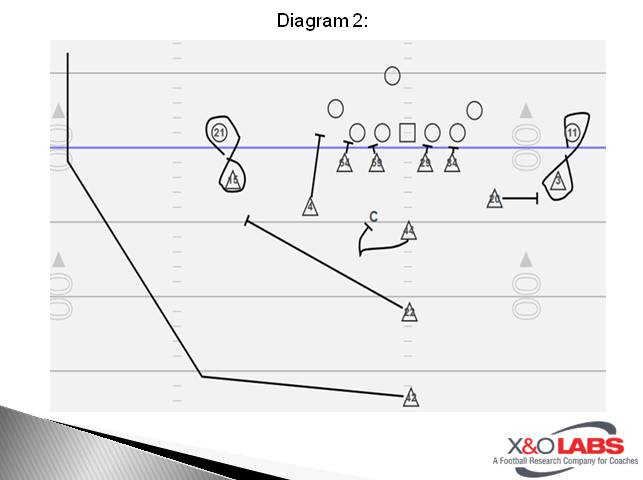 Let's talk thru Ralph, our right return.
Corner's Responsibilities:
Corner takes away the inside release by his alignment first. The corners will line up on the inside shade of the gunner. They will not turn their body too much one way or the other, but the goal here is to take away the inside release. The corner has got to maintain inside leverage on the gunner.
This forces the gunner to take an outside release.
This gives the corner inside leverage on the gunner.
Teach the corner to ride that man to the sidelines.
Usually the gunner will beat the corner to the outside.
This is where the Outside Linebacker comes in to play.
Left Outside Linebacker Responsibilities: