By Brian Mahan
Defensive Coordinator/Punt & FG Block Unit
Woodruff High School (SC)
Twitter: @CoachBMahan
Here is the worst kept secret in football, blocking kicks is fun! Coaches and players alike get excited by blocking kicks, it's a definite momentum shift in a game and brings a team's energy level up a couple of notches when it occurs. First and foremost, I do not know all there is to know about blocking kicks and I never will have all the answers for it. As we all know as coaches it's not about the X's & O's, it's about the "Johnny & Joes", as Bobby Bowden always liked to say, and we were fortunate enough to have these types of players that could execute our block schemes. In 2018 we had two young men that had this ability, Nigel Cochran and Brian Hunter, that were responsible for all 10 blocked kicks. Nigel and Brian both had the desire to block kicks and it helped they were great athletes!
We do our best to identify 3-4 guys we believe could go and block these kicks and try to put them in a position to be successful at it. During the 2018 season, our team blocked more kicks (10), than any team I have coached before and returned two of them for scores. Blocking kicks is an art form in a sense, I learned from a former boss of mine at Georgetown High School in Georgetown, SC, Coach Barry Avant, who firmly believed in trying to block every punt and kick attempted in a game. Over the years I've been able to base our current block schemes off what I learned from Coach Avant. Currently, our Head Coach, Bradley Adams, believes in going after these types of opportunities at the right times and it's our job as a block unit to take advantage of those opportunities when presented and give our team a lift or change the momentum of the game. In this report, I will show and discuss our schemes for blocking punts and field goal/extra point attempts and hopefully give you some ideas to use with your block units.
Alignment:
The first thing we always teach to our block unit is our base alignment and the stances we want them in. Players will "crowd" the line of scrimmage in a "bunched" stance. Their hand will be even with their front foot, with their face behind their hand. We number our rushers inside-out from 5 on the inside to 1 on the outside. Now there will be times we want to disguise a return and a block and have everyone in two-point stances. This really just depends on our scheme for the week as well. There are also those instances, like this past season, our kick blockers feel more comfortable in a two-point stance rather than the three-point stance.
5's – Alignment is on the shoulders of the long snapper

4's – Alignment is head up to slightly inside the eye of the guard

3's – Alignment is head up to slightly inside eye of the tackle

2's – Alignment is head up to slightly inside eye of the end

1's – Alignment is outside should of the end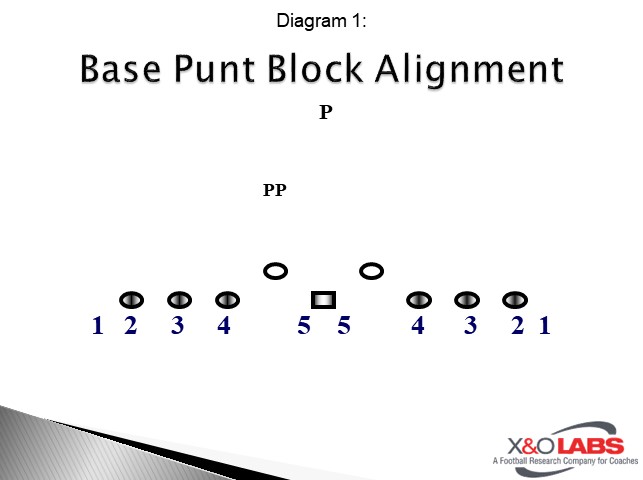 Punt Protection Schemes:
Next, we believe it is a must to teach the players the types of blocking schemes that are used in punt and field goal protections by our opponents. This is key in determining our punt block scheme for the upcoming game. The two most common types we see are inside and outside zone.
Versus Outside Zone Structure, players will have their outside foot back.

Versus Inside Zone Structure, players will have their inside foot back. (5's will always have their inside foot back).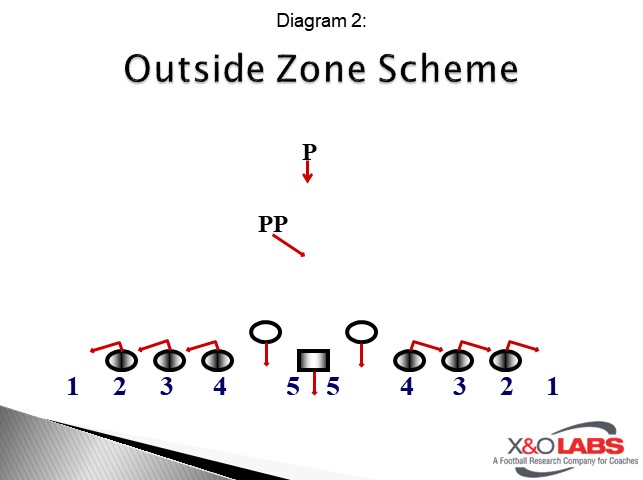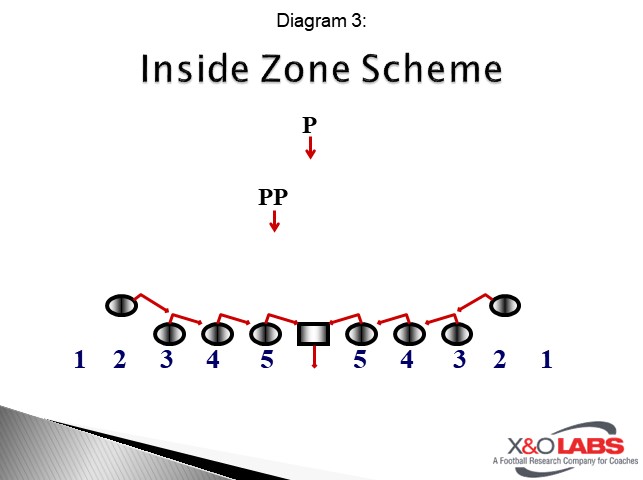 Proper Angles and Block Points
Our next teaching point is how to take the proper angles and block points. This an absolute must and cannot be overlooked and is essential to teaching the players how to avoid the roughing calls from improper techniques. We teach all our angles and block points from our base alignment. It is also important to note that we do not always bring both sides at the same time. We do this to avoid running into one another and causing injuries. Our teaching progression is as follows:
Players will "key the ball" when the ball moves, we move.

Players will step into the crotch of the blocker upon whom they are aligned on their first step.

With their second step, players will straddle the blocker and turn their backs into pressure.

When players come free, they will attack the inside number of personal protectors. If the personal protector steps out of their way, they will continue on the same path to block the kick.

To block the kick, players will dive "up and out" with their hands below their eyes in what we call the "Superman" position. If you have the resources, I advise purchasing a crash pad like the one used in track for the high jump or just ask to borrow the pad from the track team as we will often do.

If they are too far away to dive, we tell them to run through their block point with your hands down in the "Superman" position.