By Terry Kent
Offensive Coordinator
Downers South HS (IL)
Editor's Note: Coach Kent is a 1974 graduate of Lawrence University in Appleton, WI. Upon graduation, he became the Head Football Coach at Fall River HS in Fall River, WI. Since then he has coached football at Westmont HS, Downers Grove North HS, North Central College, and Downers Grove South HS, winning the first 8A IHSA State Championship in football in 2001. He was inducted into the Illinois High School Football Coaches Hall of Fame in 2010. He is currently the Offensive Coordinator / Running Backs Coach at Downers Grove South and is responsible for the Punt Team.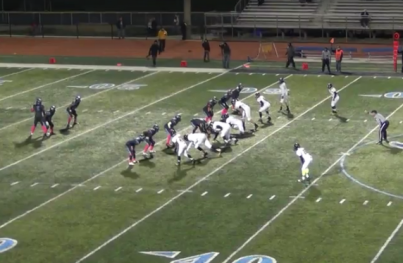 I have been intrigued by the Shield Punt ever since I first saw it being used in a bowl game several years ago. My first impression was dismay that anyone would want to let the inside rushers run free and blow up the 3 guys standing in the backfield. As more and more teams went to the shield, I started seeing its benefits. Before deciding to implement it, though, I had to be convinced that the advantages outweighed the disadvantages. What finally sold me on the Shield Punt was a Glazier Clinic presentation by Grand Valley State showing that in 2012 they only allowed 3 yards in punt returns. We all know that a punt is one of the greatest weapons a team has in changing field position. This past season we punted 31 times and allowed 12 punt returns for a total of 12 yards! This is the number 1 reason to use the Shield Punt – limiting your opponents return yardage. We also had one punt partially deflected due to poor execution by one of the shields.
The advantages of using the Shield Punt are as follows:
Long Snapper has NO protection responsibilities.

Get into coverage faster

à

No returns!

Can change block spot if needed.

Rugby punt limits number of touches by returner.
The disadvantages that I had to work through are:
Need to teach 3 different punts: Shield, Rugby, Tight

Shield players aren't reliable in coverage.

Operation time must be a 2.0 or better.
The biggest stumbling block for me was teaching 3 different punts, especially a Tight Punt that we would use inside of the 20 yard line. Prior to this year, we had used the traditional double slot punt with zone blocking and we always had trouble teaching our defensive players the concept of zone blocking. One of the plusses of the Shield Punt is that your Punt Team really doesn't block anyone, allowing us to put our best coverage players on the field. While we practiced the Tight Punt weekly, we never used it in a game.
Alignment
Our line lines up in a toe to heel relationship with the Center. We need to be careful that their heads break the plane of the Center's waist, something that we didn't always do. While we were never called for having too few men on the LOS, we certainly could have been. The Shield lines up with their heels at 7 yards. The Punter's heels are at 14 yards. The Middle Shield, the Personal Protector, stacks behind one of the shields and steps between them. He is responsible for making the proper blocking calls and initiating the snap. Our line splits are as follows: C/G 2 yards, G/T 2 – 3 yards, T/E 3 – 5 yards. Early in the season we would split out both Ends to the same side when punting on the hash, but stopped doing this when we had protection issues.