By Coach William Lund
Special Teams Coordinator and Linebackers Coach
Saginaw Valley State University
Twitter: @lundsanity51
Introduction:
I arrived at Saginaw Valley State in the spring of 2016 with the goal of making our Special Teams unit one of the best in the country. A big part of reaching that goal was to turn around the kickoff coverage unit. Thanks to great players and the drills used in this report, we improved our kickoff rankings 80 spots during the 2016 season for NCAA Division 2 football programs. The key was developing an efficient way of balancing the skills and techniques needed, while still maintaining the ability to run the opponent's schemes for the upcoming week within a tight time frame.
These drills are done pre-practice in a five-minute time frame. It is a teach tempo, but we try to work around ¾ speed. We utilize these drills as a prep for the day's practice where the Kickoff team will be the focus.
Each of these drills can also be applied and used to develop your team's Kickoff Return unit by merely changing the emphasis to blocking. The "Flyzone Drill" and "Cardinal Drill" can be used as competitive drills between units to create a more intense work atmosphere.
Speed and Backdoor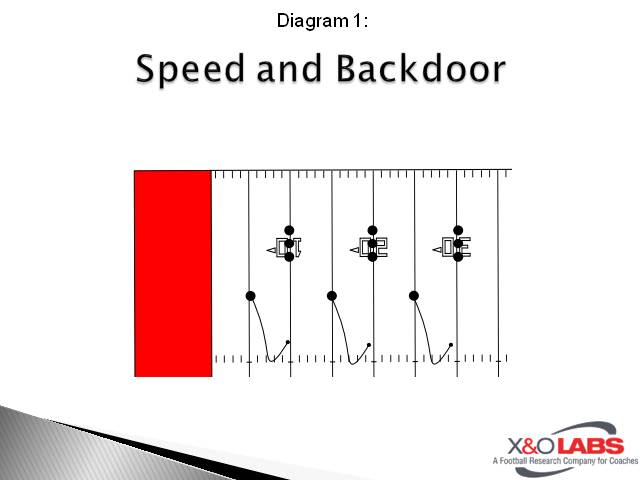 This drill is our pre-practice drill we work on to develop using a "dip and rip" when beating a block with speed or working a back door move with a stick and move a al "Allen Iverson crossover." We will settle on the hash with a near foot near shoulder approach or work on tackling using donuts.
Film Notes: These first 4 clips of drills are variations of skills needed to defeat blocks in space. The first one is defeating a block with speed. Starting on the sideline, we want to dip and rip through the blocker, and on approach to the hash we work a near foot- near shoulder shuffle, simulating our preparation for the tackle. We added a tackling donut to provide a functional vehicle to tackle, and execute our near foot - near shoulder tackling technique.
To study film of this drill, click on the video below: