By Brian Morgan - @coachbmorgan
RB Coach / Special Teams Coordinator
Lamar University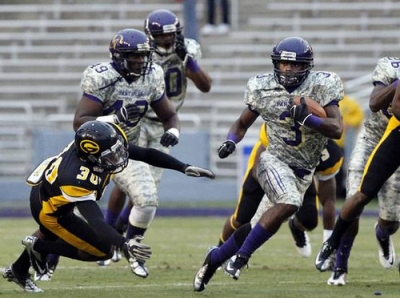 Editor's Note: Brian Morgan was just hired on to the Lamar University coaching staff to serve as the RB coach and special teams coordinator, the same positions he resently held at Prairie View A&M University. While at Prairie View A&M University, Morgan's specialists also had career seasons as the trio of Chris Barrick, Spencer Nelson and Johnta' Hebert reaped All-SWAC honors in 2012. As the team's punt returner, Nelson led the SWAC and ranked fourth nationally in punt return average with 16.5 yards per return. Barrick capped off a career-best season at placekicker as he finished 9-of-11 in field goals and 38-of-40 in PATs. As a true freshman, Hebert ranked second in the SWAC with an 18.9-yard kickoff return average along with one touchdown via a kickoff return. Hebert also led the SWAC in all-purpose yardage with 121.7 yards per outing as he tallied 926 kick return yards, 196 receiving yards and 217 rushing yards on the ground.
Last year, Morgan's unit rushed for nearly 1,500 yards with the sophomore tandem of Fred Anderson and Courtney Brown combining to rush for 1,105 yards and 11 touchdowns. Anderson ranked eighth amongst SWAC rushers with 52.5 yards per game while Brown finished tied for fourth in the SWAC with 10 (9 rushing) touchdowns. As a unit, the Panthers ranked third in rush offense as they netted 2,054 yards for an average of 186.7 yards per game. The unit surpassed the 200-yard mark five times last season while rushing for 150-plus yards three times.
Introduction
Throughout my years of coaching kickoff return units, I have noticed that the best units have minimal return concepts, but work really hard at perfecting their techniques. Many of the best return units I have coached stick to one main return scheme (trap/counter/middle), and have a solid counter off that return. My goal when putting together our kickoff return package is to never give up our return direction by our alignments, and also to have each return look as close to identical as possible to the kickoff coverage team as they are running down the field.
Personnel
We try to personnel our kickoff return team so that our boundary double team uses two bigger, physical guys. The field side of our front line consists of either big wide receivers or athletic defensive ends. On the second level our two fullbacks are usually true fullbacks or middle linebackers. Our boundary wing is usually an athletic linebacker, while our field wing is a big running back. We like a big running back here because we have found this to be the most common place to get pooch kicks. The blocking he must do is typically in space, and we have a chance for a decent return if the opponent does pooch kick. Our upback or off returner rarely fields the kickoff and must be a good blocker. Some years we are fortunate to have a dynamic upback as well. Our main return man is the most dynamic threat to score on our team. We want the ball in his hands as much as possible. Many teams that want to kick away from him will pooch kick to our field wing which almost guarantees us field position at the 35 yard line at a minimum.