By Christopher Smithley - @WJFootball
Secondary / Special Teams Coordinator
Washington and Jefferson College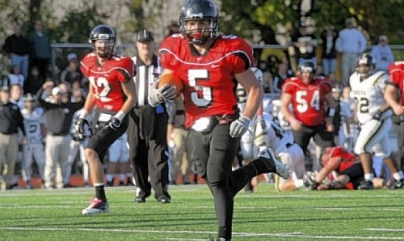 Editor's Note: Coach Smithley coached his 2nd season as a Presidents' football assistant in 2013 as the team's Special Teams Coordinator and Secondary coach. In 2013 Smithley led the Presidents secondary to a conference high 16 interceptions including 5 from 1st Team All Conference free safety B.J. Monacelli '14. The Presidents special teams ranked 1st in kickoff return average, punt return average, and kickoff coverage in the Presidents Athletic Conference. The Kickoff return unit also averaged 24.33 yards per return ranking in the top 15 in the country. In 2012, as linebackers coach, Smithley helped Pine-Richland High School graduates Ian Hennessy '13 and John Hunter '13 produce the best seasons of their careers with 99 and 97 tackles, respectively. A native of Bolivar, Pa., Smithley played quarterback and H-back during his playing years with the Yellow Jackets. He is a graduate of Laurel Valley High School.
Kickoff return, like all the other special teams, is extremely important in the outcome of a football game. At Washington and Jefferson College, we put a major emphasis on our KOR unit. We feel that field position not only can determine a football game, but can also create huge momentum boosts that raise the level of play for an entire team. We have all seen it. There is nothing that compares to a kickoff return that involves two punishing blocks and a returner that threads the needle in the hole and busts a big return. The energy that erupts from your sideline and your fan base is stronger and more powerful than any other play in football.
The key to this unit is, and always will be, having one or two guys that when the ball is in their hands, is a threat to break a big play. However, it is also important to have a scheme that is simple and effective, and gives a coach the ability to be multiple with their returns.
This year our KOR unit was ranked 15th in the country and led our conference in kickoff return average with an average of 24.3 yards per return. This team, just like all of our other special teams units, is made up from personnel from all over our roster. These guys have responsibilities and focuses in their offensive and defensive positions. I cannot say enough how important it is to make special teams simple and effective for your program.
We currently run a scheme that our Head Coach Mike Sirianni has used here at W&J for years. This past year, we placed larger emphasis on this team with film study and practice repetitions in order to create more productivity. We typically spend approximately a half hour per week working this unit in practice. We give our scout kickoff team the looks to run that we will see for that week as well as the possibilities that we feel as a staff that we could see. We will also get 30-40 minutes of film each week watching our practice, past games, and opponent scouting. I cannot say enough about how much film study is in every phase of the game, but in this particular unit it has been extremely productive for us here at W&J
Scheme and Alignments
There are a thousand different ways you can scheme up a kickoff return. Some teams will run an outside return to the boundary and some may even run an outside return to the field. When I say to the boundary, the kickoff team kicks a directional kick to our right. The right side would be the boundary and the left side would be considered the field. Teams can run a right middle and a left middle which typically hits either just inside or outside of the hash. Also teams can just run a middle return right up the center. Technically, if your KOR unit is set in their alignments the same way every time, that is five different schemes that you're asking your players to be able to know and execute. In our scheme, we teach our guys a sideline right and a left middle. It minimizes the amount of information that our players have to comprehend. If we want a sideline left or a right middle, we will flip the entire return unit. Now, we have a sideline and a middle hash return to either the field or boundary based off of where the ball is kicked.