By Mike Kuchar
with Glenn Caruso
Head Football Coach
University of St. Thomas (MN)
As one of the top Division 3 football programs in the country, the University of St. Thomas (MN) continually finds itself at the top of nearly every statistical category on all three phases of the game. Consider the following statistics over the last three seasons, which are all national rankings:
2019
#6 in scoring offense (47.9 ppg)

#12 in scoring defense (14.7 ppg)
2018
#3 in scoring offense (48.3 ppg)

#6 in scoring defense (10.2 ppg)
2017
#4 in scoring offense (47.2 ppg)

#5 in scoring defense (11.2 ppg)
2016
#2 in scoring offense (47.1 ppg)

#3 in scoring defense (12.3 ppg)

#4 in blocked punts (4)
2015
#2 in scoring offense (51.3 ppg)

#9 in scoring defense (12.5 ppg)

#4 in blocked punts (4)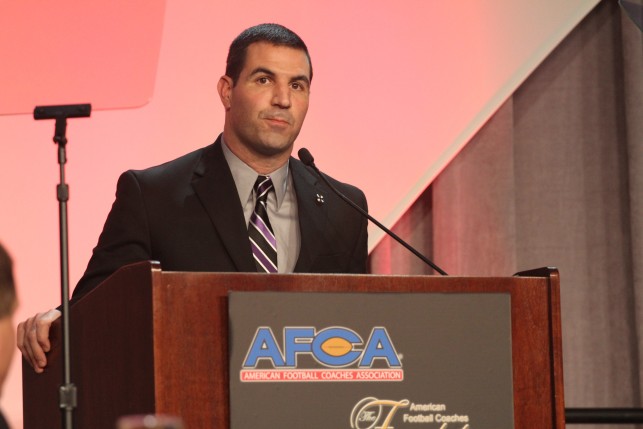 This synergy doesn't happen naturally. It's the result of a mission created by Coach Caruso and his staff that has continually been cultivated over the last twelve seasons since he's been the head coach there. The results have been astronomical. In those twelve seasons, the Tommie's have compiled a 126-21 record (.857 win %), including a 72-12 record in MIAC play. It's a win percentage that has only been eclipsed by other divisional powerhouses like North Dakota State and the University of Alabama. They have been mainstays in the NCAA Division 3 playoff landscape making eight appearances, including two Stagg Bowl trips during that time.
The culture that Coach Caruso has established in St. Paul is built upon accountability and responsibility. After all, we should know. We spent a couple days there in the spring of 2017 and the synergy is palpable. It's rare to find a player late for a meeting and even more rare to find a pair of eyes not centered on Coach Caruso's sub 6-foot framework as directs his team meetings, which often center on what he calls "common sense" frameworks that can apply to either side of the ball (more on that below).
We wanted to talk to Coach Caruso on balance and equities with all three phrases of the ball. We should mention that he's strictly the overseer of these disciplines- he's delegated offense to offensive coordinator Bruce Carpenter while defensive coordinator Wallie Kuchinski has been with him since he took the job in 2008. It's clear he's made the right hires, as each of these individuals have fostered that responsibility to their units. According to Coach Caruso, it's a responsibility that can often be ignored particularly if a prominent offensive coordinator all of a sudden becomes entrusted with head coaching duties- as he had. "If you are a head coach with an offensive coordinator background it is important to recognize that you have a greater responsibility to your defense," he told us. "You have to find a way to defend a lesser number of plays than you do with your offense finding way to score points." For example, in 2017, the University of St. Thomas averaged 72 plays per game on offense, but only had to defend 53 on defense that season. "But the difficulty is that when someone gets there as a previous offensive coordinator they've gotten the job because of their success as a coordinator. Their main job was to score points, now the main job has shifted into making sure your offense fits what you're asking out of your defense. You realize the importance of field position. And you know part of the liability and responsibility of how many times your special teams' units and defense are on the field directly correlates to the way and style of what you run on offense."
That all sounds great, but like most good coaches Coach Caruso meticulously worked a process to get to that result and he revealed that process to us. It's a plan that is segmented around three main components:
Staff Buy-In

Player Buy-In

Practice and Game Management
Cultivating Staff Buy-In
Hiring Coaches
It starts with the hiring the right people or as author Jim Collins wrote in "Good to Great," getting the right people on the bus. So, before Coach Caruso makes his hires he outlines the parameters he wants to govern his program, with the installation method of systems and how he positions personnel placement at the forefront.