By Mike Kuchar
Senior Research Manager
X&O Labs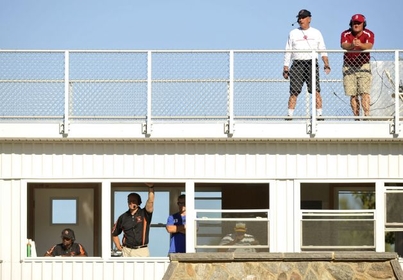 Introduction
Now that we're all approaching mid-season form, we felt imperative to address perhaps what might be the most under-coached aspect of on field coaching decisions- press box communications.  We've all been in situations when our spotter in the booth is caught "watching the game," and not what he's supposed to be clued in on.  Training your spotters is a difficult task, one that can only be mastered with the combination of disciplined eye training and plenty of experience. 
XandOLabs.com sent its survey on press box communications to 3,900 coaches- only offensive coordinators, defensive coordinators and head coaches at all levels that reported back on the methodology they use in the press box.  We heard back from coaches who had worked with their spotters for over twenty years and some who were in the process of training a beginner up there.  We're more than happy to report on our findings below.
Case 1- Personnel in Press Box
Before we begin with the most common protocol used in the booth, we wanted to present some findings that we found interesting on the personnel in the booth.  We wanted to start with the head coaching position and find out how many coaches are tied into game day communications.   It seemed like the visual of the stoic head coach, ala Tom Laundry, pacing the sidelines without a head set is lost in football lore. 
Truth is, we found that 83.6 percent of head coaches wear a head set on game day.   This wasn't so shocking.  But there are some- like the University of Michigan's head coach Brady Hoke, that choose not to do so.  It was this sixteen percent that we felt we needed to explore.  We reached out to the small minority to find out what those head coaches are doing when not on a headset and here is what we found:
"I go between the coordinators when suggesting things or asking questions, but only when I deem it a necessity."- David Bice, Sardis High School (AL)
"An assistant with a headset stands near me and passes information to and from the press box.

"- Joe Fabrizio, head coach, St. Petersburg High School (FL)
We found that those head coaches that opt not for the headsets are naturally not coordinators.  They spend the majority of the game delegating responsibilities- such as personnel, calling offenses and defenses- to their assistants.  Some of these coaches choose also not to be on the phones in order to eliminate clutter, which can be a constant distraction during the course of the game.  We found that the majority of coaches, 58.6 percent, use more than five headsets on game days.  This is more than double the amount that use up to five

(

see survey results below)

.  Considering the majority of our survey responders where high school and mid-major college coaches, we found this number to be particularly high.  The protocol these coaches use during the game will be discussed in further cases, but the fact that there can be that many "mouths" going during the course of the game is staggering.  Managing that communication can be a chore.  What we found even more interesting is that even though many programs are using more than five headsets, 37.5 percent of these coaches have only two total coaches in the press box.  Now the issue becomes how to delegate responsibility to those two coaches, which we will explore now in futher detail.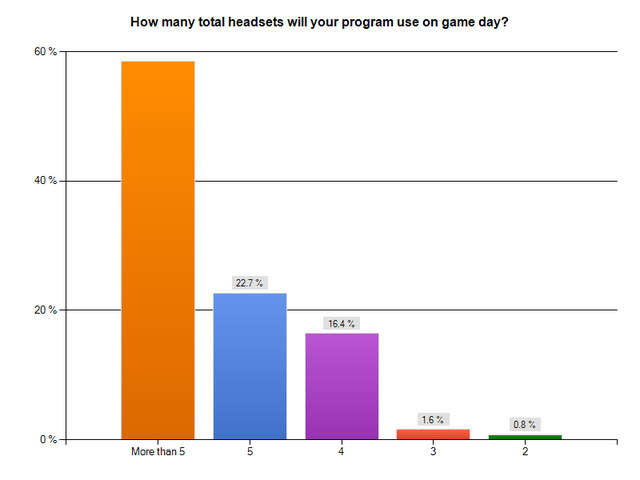 Case 2- Offensive Responsibilities and Communication Protocol
The first question we wanted to explore regarding the offensive side of the ball was how many offensive coordinators are in the booth as opposed to being on the field. 
We found that 63 percent of offensive coordinators choose to be on the field, which is significantly lower than defensive coordinators on the field. 
We know that most coordinators choose to see the "big picture"- fronts, coverage's, movements, etc. which is particularly why many major college programs have its offensive coordinators in the booth.  But as far as high school and small college coaches are concerned, the majority chooses to be on the field and trust their spotters up top to do their jobs.  
Despite having a possibility of five coaches on headsets, 48 percent of these coaches only allow up to two other coaches talking on the headsets at the same time. 
Multiple Spotter Protocols
Having two spotters in the booth can provide some benefits to the offensive coordinator.  While we all know elements like down and distance, field position and coverage can be important, 37.3 percent of coaches feel that the defensive front is the most valuable information offensive coordinators receive from their spotters in the booth (see survey results below)

.

   

One of those coaches is Doug Taracuk, the offensive coordinator at Dublin Scioto High School (OH) who relies more on the visual he gets on the defensive front, more specifically, the defensive ends.   "

The defensive ends are important to us due to our use of misdirection plays such as nakeds, counters, and reverses," Taracuk told us.  "The play of the end often dictates what types of pass protection we use, which screens we use, and which reads or options we use. We want to know his angle of attack, his feet, how often he comes under pass sets, how disciplined is he on plays away, and does he wrong arm kick out blocks.  In our area, the big difference between great teams and average teams is often dictated by the play of the field or formation defensive end. With the variety of offenses in our area, we may not see how an end will play against our style on our scout tapes."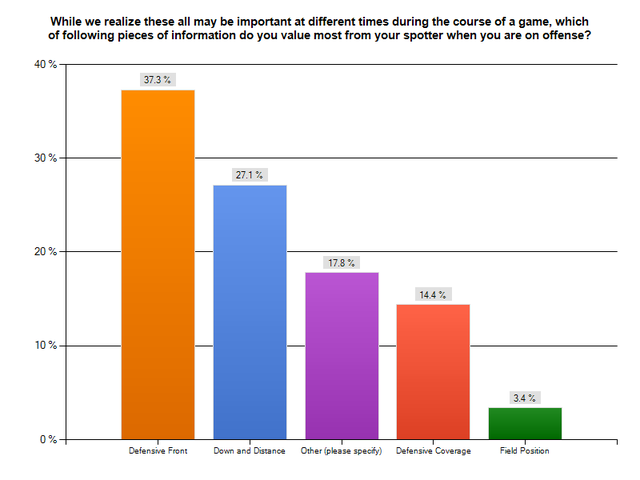 Taracuk detailed and example of this below:
"On Tape one, our opponent played a Navy style option team. Our second tape showed our opponent playing against a four or five wide attack.  In game one, they played a two tight end double wing offense.  We had a decent clue of the scheme, but it was hard to evaluate positions.  Going into the game, we thought we could kick the ends out with our tight end.  We were wrong. We switched to our counter plays where we either kicked him out with a pulling guard or high walled him with out tackle."   While one of his spotters is checking the defensive ends, Taracuk

watches the front at the point of attack on runs and the under coverage on passes. The second spotter watches the secondary fills on runs and the deep coverage on passes.  Recently in Ohio, high school programs are allowing coaches to use tec

hnology up in the press box and as a result, Taracuk uses what he calls his "doodle chart

," which we made available to our Insider members

(

click here to download this form

)

. 

"We shoot pictures or video each play with an I-Pad.  At the end of each series, we tally the fronts, coverage's and stunts and draw in the fills or drops. From tha