By Nick Hill 
Safeties Coach
Santa Rosa Junior College
Editor's Note:  Coach Hill is entering his first year as safeties coach at Santa Rosa JC.  Prior to this assignment, he spent 2 seasons as the quality control coach at Cal Poly while also assisting as a linebacker coach.  Coach Hill started his coaching career coaching outside linebackers at Santa Rosa JC after graduating from Linfield College in 2008.
Introduction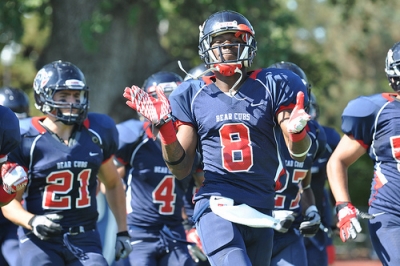 Each week defensive staffs across the country face the challenge of formulating a game plan that will slow down today's high-powered offenses.  In order to do this, they must have an understanding of what they are up against including strengths, weaknesses, tendencies, and developing an overall feel for what the offense is trying to do.  The process of breaking down film accurately as well as creating scouting reports will help your staff achieve this and hopefully lead to a game plan that will allow them be successful on game day.  Listed in this article are some ideas on how a defensive staff can go about preparing for an offense on a week to week basis. 
1. Grouping Plays by Field Zones and Down and Distance
One task you want to take care of before you start to break down the opponent film is set up your program that groups together plays by field position and down and distance.  By putting these into the settings of your film breakdown program, it should automatically put the field position in for you based on what yard line you type in when you are doing the down and distance segment. Below is an example of how you may want to set up the field position on your program.
-1 to -5 YDL= Backed up
-6 to -19= Coming out
-20 to -50=Field Zone Minus
49 to 26= Field Zone plus
25-16 YDL=High Red Zone
15 to 5 YDL=Red Zone
4 YDL to 1 YDL= Goal line
The same thing goes for field position.  Listed below is an example of how you can set up your distances.
2nd & 11+=2nd & Extra-Long
2nd & 7-10 yds=2nd & Long
2nd & 4-6 yds=2nd & Medium
2nd & 1-3 yds =2nd & Short
***You can set up third down the same way
The first part of film entry is known as Down & Distance (D&D).  To do this aspect it is best to get an official play by play from the games that you are breaking down.  If you can't find an official box score you may have to go off the scoreboard shot, or you may have to look at the down markers on the field and try and eyeball the distance.  When working on the D &D part of the film, one person will read the play by play, while the other person enters the data into the computer and ensures that the play by play matches up with the film.  If for whatever reason this doesn't match up then you need to stop and figure out what the problem is.  I've found common problems include: missing clips from the film, clips that are out of order, end zone and sideline view not matched up, or the play by play will be off or missing a play.  Whatever the problem is, it is important that it is fixed right away so that it doesn't throw the rest of the film off and ensures accuracy.  Other information that should be entered into the film during this time period include:


1st play of series



Series number




Punts




Turnovers




Sacks




Scrambles




Penalties




Quarter.



General information summary



Use play by play and partner if possible to ensure accuracy



Information to be entered into film-quarter, 1st play of series, series number, when the series ends (punt, turnover on downs, turnover), down and distance, hash (from defensive point of view), run/pass, yds. gained/lost on play, incomplete/complete, enter penalties, QB scrambles,


2. Evaluating Formation and Personnel
The next information to be put in is the formation/personnel of the offensive team.  Before getting started with the data entry for this section you should print out a two deep depth chart as well as a roster to help with personnel identification.  One thing I found helpful when doing this was taking a small sticky note and putting it on the two deep with a column for QB's, RB's, WR and TE's.  I would then write down the number of the players in the appropriate column as the game went on, making my own two deep that was easier to read.  When entering personnel data into the film it is important that you are not only accurate but that you are also consistent in what you are labeling the personnel groupings.  This requires a lot of attention to detail.  Throughout the season you may run into a team that uses a primary personnel group, but gives you formations that are of another personnel group.  An example of this would be a team that runs a lot of 12 personnel but has an athletic tight end that will at times line up in a detached position in the slot, giving them an 11P look.  Although the offense is presenting and 11P picture, the film should still be labeled as 12P, to distinguish from when the offense is truly in 11P.  Other scenarios to keep in mind that may come up during the season include teams that use two QB's, or perhaps they bring in another quarterback for a wildcat type of package.  These should be labeled with something to distinguish them to allow them to be sorted out later when the film cutups are being made.  If a team runs wildcat but the regular QB stays in the game, then just label it what the personnel is, and add wildcat in the formation or backfield set box.  Others scenarios to watch out for include extra OL in the game, especially by the goal line or in short yardage situations.
Formation/ Personnel summary



Personnel




Formation name/ backfield (note for 20/21/22P groups make sure to label whether the two backs in the backfield are both tailbacks or