By Mike Kuchar
Senior Research Manager
X&O Labs
Twitter: @MikekKuchar
Last month we let you in on what is perhaps the biggest "little known secret" that is changing the course of in-game operations at the high school level.
We told you that in 2013, the NFHS changed its Football Rule 1.6.1.2 to allow the use of video during games. This change allows the use of video on iPads and other tablets by coaches and players. What was surprising was the fact that only 1% of high school programs were using video replay during games. We suspect the low adoption rate stems from the fact that technology hadn't caught up to the rule change.
Now that we're seeing multiple companies providing sideline video replay technology at a reasonable rate, we expect a dramatic rise in the number of coaches using video on the sidelines. Particularly after our previous report featuring a system called "Reveal." Reveal was created by Graham Clark and Peter Foley, who used the product with the United States Olympic Snowboarding Team, and who are now rolling out the product to high school football teams all over the country. Following our last report on this subject, we were inundated with questions from coaches asking for more information on what the product looks like, to what it costs, to how to operate it.
This new rule opened a Pandora's box of in-game protocol and subsequently sent dozens of technology companies into a mad rush to produce a cost-effective and efficient models for high school coaches across the country. We were especially impressed with the product that Clark and Foley designed, particularly after talking with some of their clients.
I got the chance to use and test the Reveal system last off-season, but rather than provide commentary on the operations of Reveal, we reached out directly to some of Insight Replay's clients. We asked them for their feedback about the product and how they are planning to use it this fall.
Tagging Plays for Quick Access
Matt Logan, the Head Coach at Centennial High School (CA), has produced a 50-10 record at Centennial the last four seasons, but like other exceptional coaches he continues to try to find ways to get an advantage over his opponents. While his team was performing brilliantly on the field, Coach Logan saw another opportunity to exploit his opponents' mismatches on the sideline.
In 2013, when the rules changed, Logan and his staff experimented by using a "cube" that was able to rely video from the sideline to the end zone. He thought it was exactly what he was looking for, but later found the technology was made more for business communications than for football programs. "It was all raw footage," Logan told us. "The problem was organizing the clips. You had to stream it through as raw footage all the time while other things were being recorded. You had to stream through plays." As a no-huddle offensive operation, this simply would not work.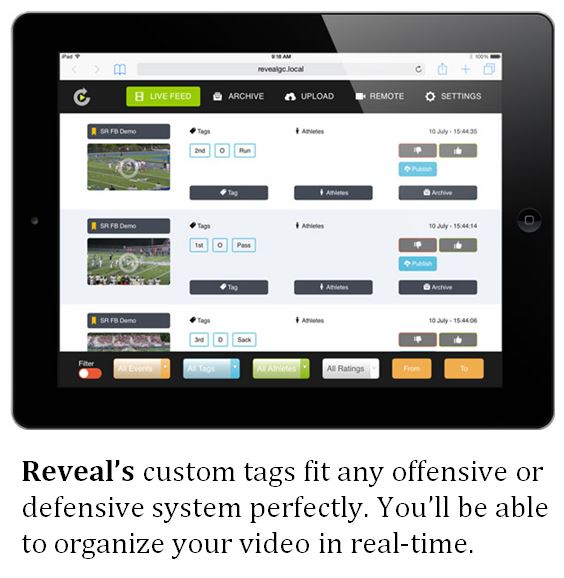 So, when Reveal hit the market, Logan was ready for a change. Once he received the product, he saw an immediate difference, which came in the form of portability and accessibility. It came in a backpack, with its own self-contained Wi-Fi hot spot and he's able to use it with his own cameras. When he found that he would be able to tag plays and immediately view them within 3 to 5 seconds of conclusion, Logan was sold. "During the play, I can tell my guys up in the box 'tag that play when we are on defense' and I can to go back to it within 3 to 5 seconds with the rest of the staff and players. It's very user friendly. It will be faster for us to see the clips we want. It's similar to HUDL in that you can find what you need. It makes it easy and controllable."
This season, Logan already has his plan mapped out for the Reveal system. "We will have one of our JV guys run the iPad and we will work through him. When we are on offense, the plays will be recorded. After offense, we'll meet as a group and look at the defensive group, and review our mistakes. We use it to verify what our players are seeing and what our coaches are seeing. We can see front and secondary coverage. It's instant feedback from series to series. If you are a huddle team, you can get feedback during the middle of the series." And now halftime will have a whole new meaning in terms of the ability to improve. "Halftime is huge because of the tagging component," said Logan. "You can go right to those plays that you tagged during the course of the game on offense, defense or the kicking game. You no longer are guessing about what the opponent is doing or relying on your players. The proof is in the video."