By Jeremy Plaa
Head Football Coach
Thomas Downey High School (CA)
Twitter: @JeremyPlaa
After taking over the program twelve years ago, it took me a couple of seasons before realizing we needed to fix the issue of retaining players. We had to reinforce the mentality with our lower-level coaches that we wanted them to enjoy their football experience and wanted to play again the following year. Every head coach knows this but having solid lower level coaches is really the foundation of any good program. The kids retained and the kids recruited slowly started to improve, but it was a process that took time. It is one of the main reasons I believe continuity is so valuable with a coaching staff- so that we can learn from mistakes made and finding more efficient ways to get things done. We learn better practices every year and attempt to improve every year.
Our participation study showed two things: 1) improvement doesn't happen overnight and 2) at some point your program will likely hit a participation plateau. The key to growing your program is you cannot rest when you hit that plateau. We work as hard as ever with looking for athletes at our school, and retaining them when we find them. While our numbers have stayed pretty constant the last few years, our program accrues playoff experience and the expectation of success with each winning season. Below, you will see the quantifiable increase in numbers in our program over the last twelve seasons.

As football is more popular than ever at the college and professional ranks, concussions have scared away not only parents of high school kids, but also kids at the youth level. Kids themselves even seem to be constantly reminded of the dangers of football. As coaches already know, all the benefits of football far outweigh the risks. As coaches, it is our job to not only promote our sport but to do our best to entice as many kids as possible into our school's program. We are constantly looking for ways to increase our signups and retain the kids we have in our football program. This article will list all of the ways we have "got them out for football, and kept them in the program."
Recruiting your hallways is not a once-a-year thing. It is an all-the-time thing. Recruiting your hallways could be between classes, in your class, or before and after school. Obviously, the more coaches you have on-campus, the easier your job. But even if you are not lucky to have that situation, you can still reach out to teachers on campus to help promote your program. Build bridges there and you will surely see the benefit.
Our staff is always on the lookout to identify students we should approach about playing football. We are a 9-12 high school and we spend most of our on-site recruiting effort on our freshman class. We feel like they will give us the biggest return for our effort, and have the chance to be in our program for three years. We feel like we can have as big of an impact on them as they will on the program. We are not against recruiting any grade level, but in terms of time management, we like to spend most of our time on each year's freshman class.
We also get a monthly report from our attendance office of students who have transferred into and out of our school. Occasionally we will find a young man whom we can get tied into our program, and that, of course, would help him get acclimated to the school more quickly as well. If you don't get this type of report, make friends with someone in the attendance office and ask if you can check in occasionally to get a report like this. With the data systems our schools have, it probably isn't difficult to get this done.
Step 1: Recruiting the Physical Education Teachers:
We will start our cycle for next season as soon as the off-season begins. The first stop for us is our PE teachers. In December of each year, we will send them an e-mail that will ask them to identify any or all kids that they think would be good for football. We ask for work ethic first, and talent is secondary. They will always identify at least a few kids that will make a difference in our program, but of course, make a bigger difference in their own lives for joining a team environment that football provides. December is a good time to ask the PE teachers because this has given them a few months to identify the kinesthetic kids that excel in class. I will usually follow up with in-person conversations with those teachers, and giving them a t-shirt as a thank you for helping our program out is always good practice.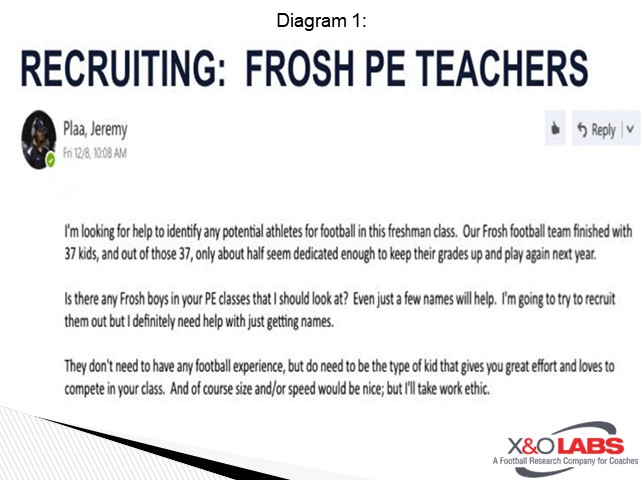 Depending on how helpful your school's PE teachers are, you can also use your school's attendance/grading system to look for potential players. We have a data system that I can filter all of the male ninth-grade students, and I can look at their first quarter grades as well as a school picture of each student. The student's picture could give you a small clue, but the bigger reveal is the student's grades. In the past, I've looked for students that get good grades in PE, and struggle in their academic classes. These kids are surely kinesthetic learners and would probably enjoy afterschool sports. These students probably NEED afterschool sports. The extra guidance of a football coach could be just what that young man needs to improve as a student to be a part of the football program. They are easy recruiting targets and should be discussed with their PE teacher if the PE teacher didn't already alert you about the student. Another reveal is a student that gets all good grades but doesn't seem involved with many other programs at the school. Our school is typical of most, and offers music, drama, agriculture, and of course other sports; but sometimes you will find a student that does very well academically but has not otherwise tied into the school's afterschool activities. Students that get good grades are going to be more reliable and will likely reflect well on your program's reputation and emphasis on the academic part of the "student-athlete."