By Justin Iske
Offensive Line Coach / Co-Offensive Coordinator
Southwest Oklahoma State University
Twitter: @justiniske
Introduction
Being efficient with practice time is one of the most important aspects of being successful on game day. Individual time is critical in terms of installing plays and working technique, but it is a struggle to get good looks most of the time. Full 11-on-11 live (or thud) work is very productive, but it increases the risk of injury. We have found that working o-line versus d-line as much as possible helps make both sides better and is more efficient than trying to get back-up offensive linemen or scout team defensive linemen to give us a good look during individual.
In terms of practice time, any practice where we have at least half pads, we will dedicate the last 10-15 minutes of individual to working run pods vs. the defensive line. Depending on the time of year and what our needs are, this could be done in one of four ways (one-on-one, two-on-one, half-line or full line). We will also spend 15-20 minutes, depending on how long we are running pass skeleton/seven-on-seven, with some combination of three pass protection drills against the defensive line (one-on-one pass rush, full line, or blitz pick-up). We work one-on-one pass rush no matter the dress for practice and will work full line and/or blitz pickup when we have half pads or full gear.
One-On-One Run Pod
The first type of run pod we do is one-on-one. We will line up the first string offensive line with about five foot splits on a yard line and align a defensive lineman across from each one. Starting with one of the tackles (or a tight end), we will execute a base block, reach block, down block or cutoff against the defender while he works his technique to recognize and defeat the block. We will then work down the line to the next player in rapid succession to get as many reps as possible. While we will get some coaching done "on the run," filming this session is critical so that we can get a maximum number of reps and still be able to go back later and review each rep.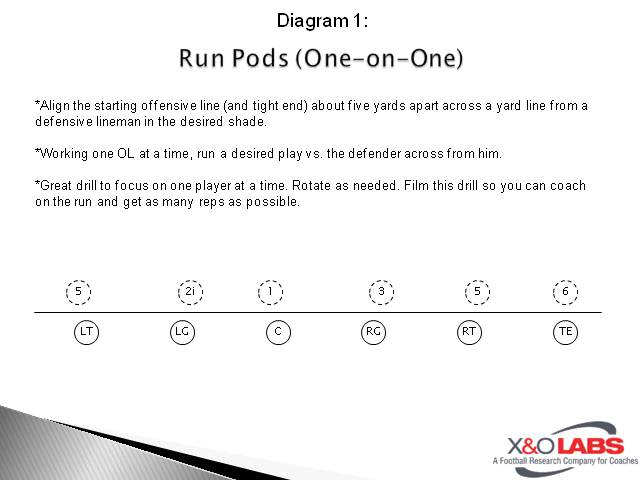 To study film of this drill, click on the video below: