By Mike Kuchar - @mikekkuchar
Senior Research Manager
X&O Labs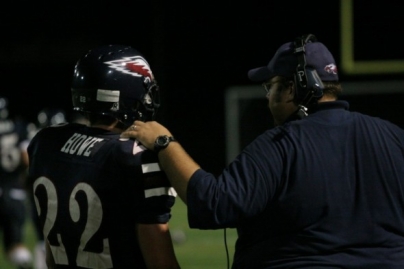 Editor's note: Veteran Athletic Director and former head high school coach Chris Fore, conducted a lenghty research study on what makes successful football programs. Fore reached out to 108 head coaches from 42 different states nationwide and published the contents of his study in a book entitled Building Championsship-Caliber Programs which can be found here: http://eightlaces.org. Senior Research Manager Mike Kuchar interviewed Fore on some common denominators on successful progams.
MK: Briefly explain the premise of the book. What was the purpose of it?
CF: The premise of this book was to research the best practices of the 2011 State Champion Head Coaches. It started with an idea I had to simply become better myself as a coach. I reached out to ten state champions with three questions about their program. Never set out to write a book. But once their responses started coming in, and I started sharing their responses, and getting great feedback from coaches, I started reaching out to even more champions. The purpose started out for me to become a better coach during the offseason. It morphed in to helping coaches nationwide become better coaches by sharing with them what the best of the best were doing to build some of the best programs in the nation.
MK: What were 3-5 common threads you discovered when interviewing these championship programs? This can relate to on the field or off the field procedures.
CF: I heard back from 108 Head Coaches from forty two states nationwide!! I categorized all of their answers in to about thirty different categories, or what I call characteristics. What developed were ten very clear common characteristics of the state champion programs. The top ten characteristics serve as ten of the chapters for this book. These top ten characteristics represented about seventy percent of their answers. The top three common answers to my three questions were: 1. Off season program. 2. Team chemistry 3. Focus on the little things and fundamentals. These three were the top three answers to my questions about what Head Coaches said separated their state champion team from others they faced in their league, conference and state.
MK: Roughly, how many of the programs you spoke with had developed Mission Statements? What were the general ideas behind these mission statements?
CF: I didn't ask directly if they had a mission statement, so this is a tough question to answer. Some coaches voluntarily gave me their mission/vision statement as a part of their answer. But as a whole, it was not a specific question, so I don't know the answer to the question here. The general ideas behind the mission statements I did receive were about putting team first, and outworking everyone they played through a determined work ethic.
MK: What information did you find about the relationship between developing a system and adapting it to your personnel? Did the majority of coaches change their systems from year to year or did they just adapt it to fit their personnel?
CF: One of the top five answers from head coaches, meaning the top five characteristics of Championship programs, was to "Stay The Course." By staying the course, coaches told me time and again that coaches who want to be successful need to find a system they believe in and stick with it. A majority of coaches told me that they did not change their systems from year to year, but stuck with one system, got the kids, coaches and community to believe in it and then had success with it.
The very first quote I thought of after reading this question was from Jeff Vanleur of Bridgewater/Emery/Ethan High School of South Dakota. He has won five State Championships. He said this about their offensive system: "Continuity is something we do different than the other programs we compete against. We run the same offense year after year and ALL through our 7th -12th grades. I believe by the time our players become varsity players they know our system well."
Another quote I thought of was from Jeff Gourley, from Olathe South High School in Kansas. "I would assume every coach wants to win a state championship, but they also need to understand there isn't a perfect system, a definite blueprint for a program to achieve success, or any other magic pill. Coaches should research all aspects of football, decide on their philosophical approach, and then implement a plan. Once the plan is deemed to be fundamentally solid, stick to it. Coaches that waffle will rarely achieve long term success. In short, do what you believe and believe what you do. It is fine to "tweak" systems to fit personnel but stay within the parameters of your basic philosophy." I love what he says about "coaches that waffle will rarely achieve long term success." This research project most definitely agrees with what Coach Gourley claims here.
A few more quotes in this area that speak to what you've asked: