By Mike Kuchar
Senior Research Manager
X&O Labs
Twitter: @MikekKuchar

Introduction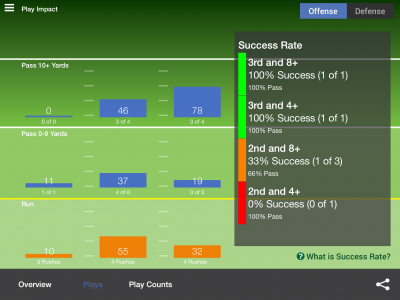 If you're like 99% of us, you're tracking game day stats and charting plays with pen and paper. This process hasn't changed much since football coaches began collecting and analyzing data decades ago. The problem with this method is its time consuming, cumbersome and doesn't always produce the most accurate data – which can cause major problems when you're making critical decisions based on "kinda-sorta" accurate information.

This is why I'm excited to bring you this report. We've been testing a new technology that will completely change the way you look at play charting and stat tracking forever.

I'm talking about LegUP (www.LegUPAnalytics.com), the new iPad application that replaces the old pen and paper system of charting statistics and plays. LegUP tracks the play, the situation, the players involved and how they contributed to the outcome, and where and how the play ended.

At first glance, we thought LegUP was just a better mouse trap over the pen and paper method, but we were wrong... really wrong.

After testing the application for the last two weeks, we're confident that LegUP is ushering in a new era of performance analytics. As coaches, we feel that LegUP has changed the process of play charting and stat tracking in two innovative ways…
Real-Time Analysis: What we like best is that the stat tracking and play charting data is available in real-time. That means coaches on your staff will have access to the information on the sideline during games using LegUP's iPad app (no internet required) – so you'll no longer have to meet with your staff at halftime to "sync" up on stats. With LegUP, your coaching staff will have access to your opponent's tendencies and trends during games, as well as your own tendencies and trends.
Post-Game Reporting: As soon as the game is over, LegUP uploads the data to your team's account (which is accessible from any computer with internet access). Using your LegUP account, you'll run through a quick procedure to ensure all data from the game is accurate and ready for advanced reporting. Once this post-game work flow is complete, you can send play charting and stat reports to the coaches on your staff. You can also send injury reports to the athletic trainer as well as coaches. And best of all, you can easily upload data directly to HUDL. Keep in mind, this can all be done immediately after the game is complete, giving you more time to review your team's performance.
Why We Like LegUP Analytics: