By Danny Freund
Wide Receivers Coach
University of North Dakota (ND)
Twitter: @dfreund7
Introduction:
We use the following seven drills to emphasize creating separation and attacking the ball at the top of routes. We also want to drill catching the ball, tucking it and turning upfield quickly. We believe in these techniques and want to drill them as much as possible in individual drills and winter/spring/summer season work. Much of our practice time as wide receivers is dedicated to running full routes on air, 1-on-1 or against the defense. These seven drills allow us to save legs and focus attention on the details that give us an advantage getting open and maximizing yards after catch.
Drill #1: Burst Drill
We use this drill to work changing speeds in and out of breaks. The focus is on keeping eyes up and arms tight to the beltline. It is important to emphasize sinking the hips at the top of the route and keeping our feet alive. The players should be on the balls of our feet and keep spacing in our feet to maintain balance. Exploding out of the break and changing speeds fast is important to create separation. We want to work this while maintaining the proper arm drive, eye focus and pad level.
We don't anything to "tell" the DB when we are breaking our route off. These include looking down with our eyes, decelerating before the break point, having arms get away from our body or beltline, and changing our shoulder pad level drastically. I like to stand at the finish of the drill to determine if anything the receiver is doing is telling the defensive back that he is about to make a break. We talk about selling vertical with speed in most routes we run. They must attack the DB's cushion and make him uncomfortable. As a change-up to train violent hips and simulate a double move, we will also work a quick one-two stutter at each cone while sinking hips and maintaining balance. At the final cone, we work the top of a curl or comeback working back to the QB.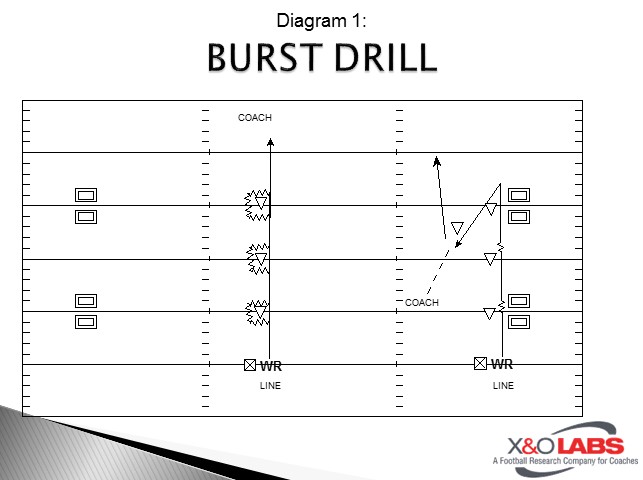 To study film of this drill, click on the video below: