By Mike Kuchar
Lead Research Manager
X&O Labs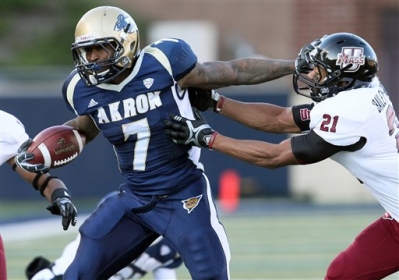 The Akron Zips are averaging 304 passing yards per game through its first two contests this season and much of that yardage has come from vertical concepts. Receiver coach John Pont details the eight drills he uses daily to teach his inside receivers how to gain separation at the line of scrimmage and stack defenders.
Drill #1 - Stance and Start Drill
Teaches the first step out of blocks.

Chest down and knees over toes.

Foot position must be heel to toe.

Front toe dug in ground and loaded.

Heel on back foot off the ground.

On snap, back leg should drive up to chest.

Chest should be down for the first five yards (sell vertical).
To see video of the stance and start drill, click on the link below: