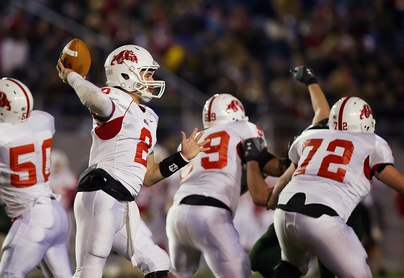 By Joseph Opalenick
Wide Reciever Coach
Wilson High School (PA)
Offensive schemes and terminology have exploded across the football landscape over the past two decades. The informational trickle-down effect from the N.F.L. and college levels to the high school ranks has produced many intricate and impressive offensive identities. As the West Coast offense made its way through in the 1990's, it opened doors to more creativity. The Spread offense took form with the emergence of the shotgun formation and the Pistol and Read Option attacks are in high demand. New technology has allowed coaches of all levels to have access and share ideas. Wrinkles are added to the basic concepts and the process of evolving keeps growing and never stops.
As this evolution process continues, sometimes terminology and philosophy can get confusing. One coach can label a certain term or concept, but that same term could have a different meaning or become misinterpreted in another coach's scheme. Vocabulary and verbiage can run together. One term that seems to be universal in wide receiver play that can take on a variety of different meanings is the term "breaking off a route". It is important that we distinguish the differences of how we are defining such a term. The following are examples of how the term "breaking off a route" is used within the football program at Wilson West Lawn.
The first area that we incorporate "breaking off a route" or "route breakdown" is within our simple 3 and 5 step break patterns. Certain stem patterns where we work to a certain depth and utilize breakdown fundamentals can be defined. Routes such as hitches, curl/hooks, comeback/sideline patterns, etc. are all pre-determined routes that are run to pre-determined depths within each concept. We teach our release techniques in terms of pre/post snap reads and identifiers. By breaking the field into vertical quadrants we can now understand who and what we are attempting to attack. We distinguish releases in terms of drop zone/soft man, press man and Cover 2. We then further distinguish releases by identifying horizontal levels within the vertical quadrants. This helps to understand what release techniques to utilize in attacking defenders. Each fundamental taught within the release concepts can be applied to all quadrants/levels. Level 1 consists of beating a defender in the area between the line of scrimmage and 5 – 6 yards. Level 2 consists of the intermediate area extending from 6 yards to 15 yards. Level 3 identifies a deep defender 15 yards and beyond. Basically, all soft zone/man techniques can be applied. Eventually, each coverage turns into man coverage at some depth point.