By Timothy Zetts - @zettstim
Runningback Coach
Fordham University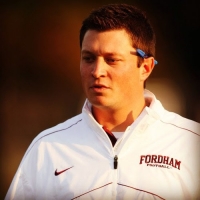 Editor's Note:
  Fordham University just completed one of the best seasons in the program's illustrious history and Coach Zetts, helped play a major role.  A former University of Akron quarterback, Zetts begins his third season on the Fordham coaching staff after serving as an assistant coach at Indiana University of Pennsylvania in 2011. He will again guide the Rams' running backs in 2014. Last fall, senior Carlton Koonce, a preseason All-American and a Walter Payton Award nominee, became just the second Ram to rush for over 1,000 yards in consecutive season, finishing the year with 1,462 yards. He led the Patriot League and was 16th in the NCAA FCS in rushing average, earning first team All-Patriot League honors for the second straight year. 
Teaching pass protection to a running back is one of the more difficult things to do within the position for a variety of reasons: 1) Depending on your scheme, running backs are often undersized when compared to the linebacker they are facing, 2) Backs do not usually have an "aggressive" blocking mentality and 3) It is sometimes hard to diagnose where the pressure is coming from - making it hard to get the body in position to make the block. That being said, there is never an excuse for a running back not to execute at a high level in pass protection. It is vital that our running backs are able to win in pass protection – our offense depends on it. We cannot be ball carrying specialists.
Identifying Pressure: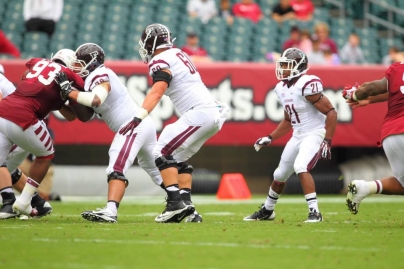 We refer to any linebacker-only pressures as "Dogs" and any type of secondary pressure as a "Blitz." A lot of times there are tendencies you notice when game planning that will help get the eyes to the correct vicinity of the field. As a unit, we devote about half our time watching pressure reels during a game week. While we are doing this, there are a couple of things we focus on:



Tendency a team brings pressure vs. down & distance




Specific field zones of pressure (field or boundary)




Whom they like to blitz most often




Any tips in their front/alignment/secondary rotation that we can take advantage of




What the individuals' best pass rush moves are (bull rush, spin, push/pull).



My own personal belief with running back pass protection is the players are not going to understand how important it is unless you constantly emphasis it.
Here at Fordham we focus a lot of our attention on pass protection because that is an area that does not come natural to everyone in our position group. Our room has ability to make a big play using their feet - but the thing that will get you on the field, and separate yourself from the others, is the ability to block.
Pass Pro Non-Negotiables:
I start by teaching the basic fundamentals of pass protecting (some of which were introduced to me a while back by Reno Ferri, Towson running back coach). There are four basics that we talk about:



Diagnose the pressure




Attack the pressure




Protect the pressure




Eliminate the pressure



It is vital we

diagnose the pressure

as soon as we possibly can to put ourselves in position to win. We never want to turn our attention away from a pressure to allow a free run at the quarterback. One of the most important things to do is identify the most dangerous person/people on the field that will make our job the toughest. Often times, especially on play-action protections, our body/eyes turn away from an ID backside so I always say, "eyes to the blind spot pre-snap". If things look suspicious make sure you are in the clear before executing your fake (protection before fake).
Another reason we always want to diagnose the pressure as soon as possible is so we can

attack

and make the collision as far from the quarterback as possible. Attacking allows us to make contact with the linebacker before he is able to get a full head of steam. The less power he has, the better for us. The next thing we want to do is

protect

the imaginary line between the man we are blocking and the quarterback. We want to make sure we take away the defenders inside half when blocking. If we get a good piece of the defender, we then try to find his inside hip to try and wash him past the quarterback. If you are able to find his hip, you now gain control of his center of gravity. The fourth, and most important, is to

eliminate

the bull rush. A back's biggest fear is being run over. To eliminate this, we have to make sure we make contact with a good, powerful base. I always emphasize that just because there is pressure, that does not mean we have to be the nail – we should always have the mentality of being the hammer.
To see a video tutorial on how Coach Zetts teaches his RB's to abort the fake, click on the link below: