By Brian Casey
Quarterbacks Coach
Montini Catholic High School (IL)
Twitter: @CoachBCasey13
Introduction: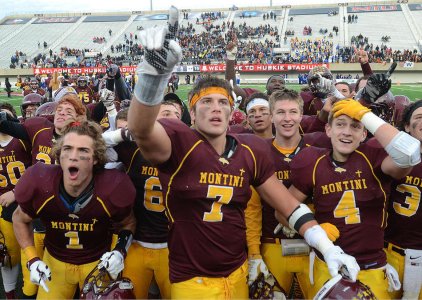 The dual threat quarterback is becoming more and more commonplace in today's game. Whether it is Cam Newton or Russell Wilson in the NFL, or the countless quarterbacks in the college and high school game, the position is moving to individuals who can be explosive with both their arm and legs. From a coaching perspective, the idea of having a quarterback that can break a simple run 80-yards for a touchdown is at times just as much of a 'bailout' for an offense as an Run/Pass Option is for a bad play-call.
In 2010, my first year as a head coach at Aurora Central Catholic (IL), I coached a young man who would be considered a pocket passer. He performed very well for us that season, and led us to the most wins the school had in 10 seasons. However, as that season progressed, we began experimenting with some "Wildcat" options with a young man who could both throw and run. The offense evolved some as the season went on. In 2011, we set a school record for rushing yards, and continued to be explosive in the passing game. From that point, it has been very difficult to even think about not having a dual threat player at the quarterback position.
This season, my first season at Montini Catholic (Lombard, IL), we had a young man that played the position as efficiently and explosively as any high school player I have ever seen. He rushed for just under 1,300 yards, threw for 1,700 yards, scoring 32 total touchdowns, while only turning the ball over twice in 14 games. Those numbers become even more impressive considering, he spent his junior season as a receiver. The attention to detail and focus in practice, especially in the running game helped prepare him for what would become the school's first ever undefeated season.
QB Read-Run Game – Installation Progression

When deciding to go with the read-run game, it is important that the installation is done at a slow pace to allow the quarterback to understand what he is looking at, and how to execute the read at a very controlled pace. When introducing each run concept, we will do it in five phases:

1. Classroom – White Board/Film
2. Individual Breakdown
3. Small Group
4. Controlled Team
5. Team

Classroom – White Board/Film

Our progression will begin well before we ever step on the field. Each season, we will begin with all the quarterbacks in a classroom, to install our read-run game on a white board, one play at a time. We will get into the specifics of identifying the 'read' player, and the rules for giving or keeping the football. After talking thru the concept on the board, we will watch film on the specific play, allowing them to see the plays in action.
Individual Breakdown

Once we have installed the concept in the meeting room, we will move onto the field, working on the fundamentals during our breakdown periods. During this time, our extra quarterbacks will serve as the running backs, while I will play the read player. To start, I will be very obvious in giving the read (hard down the L.O.S., far up field, etc.), as we continue to progress, I will begin to speed up my movement, and try to deceive the quarterback.
Small Group

Once both the quarterbacks and running backs have worked their individual drills and have installed the specific read concept in breakdown periods, we will both come together and work the backfield action at full-speed. Again, just like I did in breakdown, I will serve as the read player. Again, I will start the drill moving slower and being obvious with the movement, and gradually begin to pick-up speed, forcing the quarterback to make a quicker read while executing the handoff or pull, without putting the ball on the ground. Once both position groups are ready to go, we will spend a lot of time in this phase, as we view it as a controlled period where we can get a lot of quality reps, working on the mesh technique while making a read at various speeds.
Controlled Team