By Dub Maddox
Offensive Coordinator at Jenks High School (OK)
and
Director of Product Development at the National Football Academy (NFA)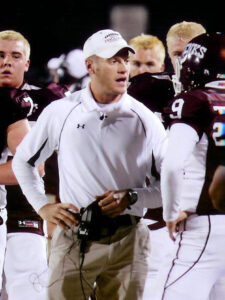 Editor's Note: Dub Maddox is the offensive coordinator and quarterback coach for the 13 time 6-A State Champions Jenks Trojans in Oklahoma. In the off season he is the Director of Camp operations for National Football Academies and travels across the country training athletes and coaches. Under Maddox's guidance the Trojan offense has generated the All-time Oklahoma 6A scoring record of 53.4 points per game in 2010 as well as the All-time rushing record of 3884 total yards in 2011. Maddox has produced the school's All-time leading passer (Sawyer Kollmorgen) with 6,716 yards (73TDs) 2008-2010, along with the school's All-time career TD record holder (Mark Ginther) with 76 TD's combined with a 70% career completion percentage-2006-2007. In 2012, Maddox coordinated the Trojan offense to help win a State Championship that outscored opponents 458-73 in the first half alone. His QB (Kyle Alexander) set the All-Time best TD-Int ratio by throwing for 2034 yards with 27 TD's and only 2 Int's in 219 attempts. Dub Maddox is the co-creator and author of the R4 system and book From Headset to Helmet.
An Explosive Play Defined
Maybe you've heard the coach's dilemma: "You have to run the ball to win, but you have to throw the ball to score."
Can you find the key relationship in this statement? Every successful football team has nailed it: The best offenses are not one dimensional! To run the football effectively you must keep defenders out of the run-box by threatening a pass; to pass effectively you must keep the box defenders and secondary players at bay by threatening a run.
This double threat demands a specific type of run and pass. In fact, according to Mike Eayrs, Head of Research and Development for the NFL's Green Bay Packers, over the last 30+ years in the NFL, the distance of 12 or more yards on runs and 16 or more yards for passes are the minimum distance needed to trigger a dramatic increase in scoring probability. When these distances are achieved on a run or a pass they are labeled Explosive Plays. As you'll see, most QB decision making structures on pass plays hinder explosive opportunities.
In that same timeframe, the NFL team with a positive turnover ratio and more explosive plays (You get more than you give up) win 91% of the time! Lesson learned: We need more explosive plays in our offense.
To rephrase the coaching dilemma, to increase probability of winning games I need more explosive plays than my opponent. Yet to get explosive run plays (12+ yds) I need the threat of throwing explosive passes (16+ yds). But how do I throw explosive passes without committing the greatest indicator of wins and losses….turnovers?
Eliminating Archaic Trains of Thought
As the old saying goes: "Three things happen when you throw the ball and two of them are bad." The two negative results of passing- incompletions and interceptions- haunt the hearts of coaches. This fear drives coaches in their pursuit of what pass concepts to use and how to teach their QBs to read them.
The most popular philosophies differ in coaching the modern passing game and explain why QBs miss explosive play opportunities. Most coaching methods for reading pass concepts serve the coach not the QB. Giving up control and trusting a QB to make the right read can be extremely difficult.
Holding onto the reigns for your QB
The clever but ineffective coach controls his fear by attaching reins to the QB to "simplify" his decision-making. They might say pick a route-side combo based on number of safeties or use defender key quick-game and screens in order to provide high-percentage completion security but fizzle the explosive play. Logic is replaced with a "take a shot" mentality instead of the explosive pass play, often by "tagging" the deep route on a play or calling a "double" move route when they "feel the force" and hope it will be there.
Another common method of reading pass concepts is taught through progressions. A coach gives his QB a number of routes to scan through after the snap in a sequential 1, 2, 3 and up to 5 order. The QB has greater freedom to view more of the field, but it requires keen mental discipline and mature timing to look at the right place at the right time to make the right throw. That's a lot to put on a young QB. So to simplify it, coaches break up the read by removing the explosive, and lucrative, deep routes from the post-snap decision-making process so he can focus on a defender key stretch for an intermediate or flat throw, thus eliminating the explosive play! Common coaching buzz-words such as "Alert" or "Peek Deep" are called pre-snap to remind the QB to evaluate the availability of the explosive route if coach hopes it will be there.
The problem is that the "reins" fail to teach the QB to read what happens post-snap as the play is developing. The Post-snap decision-making process is the highest need of the QB….Even more so in today's complex game. The advancements of pass defensive coverages in today's game are designed to short-circuit the QB's pre-snap decision-making process. Defensive post-snap pattern reading, post-snap rotation, and split field coverages create overwhelming mental chaos in a QB. What you see pre-snap is no longer what you see post-snap.
A New QB Operating System- The R4 Approach
What if it was possible to engage an operating system that gives the QB and coach the ability to anticipate where the highest probability of completion is no matter what the coverage? What if we had the tools to accelerate QB decision-making both pre- and post-snap by allowing him to read what is happening in real-time instead of what he thinks will happen? What if the coach and the QB had a common language that increased explosive play opportunities by defining what "Open" really means and looks like? What if they could control the Chaos?
These were the answers I was seeking when I started coaching QBs. How do I teach them to decide when a WR is "Open" and what does "Open" mean? When I visited clinics or Division 1 programs, I asked these "questions" and common coaching answers were sweeping statements such as "Throw to grass", "Throw them open" or "If they can't do it, we find somebody who can." I thought to myself, How much grass is needed to be considered open, when does my QB throw it there, and what if I don't have another guy? Each time I came away frustrated.