By Sam Nichols
Managing Editor
X&O Labs
Twitter: @SNicholsXOLabs
Introduction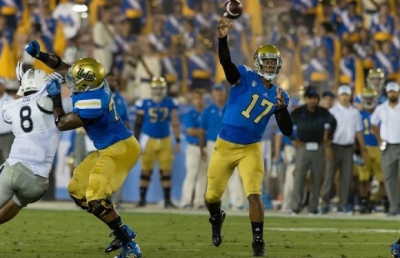 The article is centered around how to properly escape the pocket when things break down. After the quarterback has worked through his initial progression and is overwhelmed by pressure, he will have to escape to keep the play alive. Before we get into the different drills that coaches use to teach these escape mechanisms, lets take a look at how coaches are teaching players to know when to escape. Here are some approaches that were shared with us as part of our survey.
For us there are two words trouble and pressure. If you are in trouble (being touched or about to be hit) get out of trouble escape and keep the play alive. When our QB is under Pressure(people at his feet, defender being blocked by him) they need to hang in the pocket and deliver an accurate ball. Avoiding pressure and delivering an accurate ball is the most important part of playing QB for us. - Steve McNeely, QB Coach, Mt. Union College
We have a built in escape plan on every pass so it is up to our quarterback. If our QB sees blitz he must attempt to make the hot throw if it is taken away he will escape through B-gap, but making sure his eyes stay down field. – Mike Rowe, Head Coach, Rocori HS
At Anderson, we on average can get the ball snapped and thrown in our pass game in roughly 2.5/3 seconds. So anytime we are doing 7on7 or Routes on Air I try to always have distractions for our QB's. I will throw hand shields at them or take a broom out to practice and swing it at them. I want them constantly having distractions in there face. This way when we get into a game they do not have to worry about being distracted. Typically this is one of the hardest aspects of playing QB. Some QB's can feel pressure and others cannot feel pressure. This is one aspect that I try not to over coach if we have a QB who can feel pressure. If the QB is savvy and can get out of the pocket I am going to let the QB be an athlete and make plays. – Brian Pitzer, Anderson HS, (OH)
Drilling Escape Mechanisms
There were a variety of drills that coaches submitted to address this part of the progression. Here are some that stood out to us:
Chow Drill – Taylor Mazzone, Quarterback Coach, UCLA and member Championship Coaching Systems (www.championshipsystems.com)
OBJECTIVE: This drill teaches the quarterback how to use his back foot when sliding away from pressure in the pocket while keeping his eyes downfield.
DESCRIPTION: The quarterback will take a 3- or 5-step drop, and once set into his punch stance, will slide 1 lateral step, leading with the back foot followed by 1 shuffle up to make a throw to his target. The QB must be balanced and compact with two hands on the ball at all times. There are two ways to run this drill either "1 over 1 up" or "1 up 1 over."