By George Penree,
Offensive Line Coach
Utica College (NY)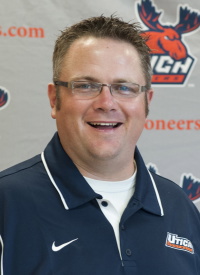 Editor's Note: The following clinic report was written by Utica College (NY) offensive line coach George Penree, a post he has held since 2007. In 2010 Utica broke more school-records including points in a single game (78), pass completions (231), passing a receiving yards (2,742), passing yards per game (274.2), total offensive yards (4,007), total yards of offense per game (400.7), and all purpose yards (5,049). Coach Penree will be happy to answer any comments or questions by leaving them below.
After each season is complete, I review all the game film and make adjustments to the techniques and schemes we utilize. The past few seasons have led me to certain truths about offensive line play. When it really comes down to it, every great block incorporates 4 qualities; a good start or "get off", a devastating "strike", perfect "body position", and "finish and effort."
I call these qualities the "4 Pillars of Offensive Line Play" and stress them from the first meeting in camp to the last meeting and practice of the season. In my experience, any offensive lineman who cannot grasp these 4 qualities will not develop to the level we will need them to compete at. On the contrary, continual reinforcement of the qualities will develop dominating offensive lineman.
Get Off
To execute effective blocks, whether run or pass, an offensive lineman has to snap out of their stance as fast as possible. Every day in practice we start with a stance and start drill making sure to include a technique we will utilize that particular week. If the game plan calls for an inside running play where the offensive lineman will have to perform drive blocks, we will utilize a stance and start drill performing drive blocks on air. I utilize T Boards and field lines to give them a landmark to step over. I utilize the trap shoot to promote great knee bend and leverage.