By Adam Kirby
Offensive Coordinator/Offensive Line Coach
Sulphur High School (LA)
Twitter:
@CoachKirby25
The up-tempo, RPO offense has taken the football world by storm in the last decade. Around the time Chip Kelly popularized this style of play as the Head Coach at Oregon, everyone in football from high school to the NFL has been looking to go faster and, in this thinking, offensive line fundamentals get lost. My goal for this article is to help bring some clarity to the following questions:
Explain the advantages of playing fast
Help you understand the OL's role in an up-tempo offense and the challenges facing offensive linemen
Demonstrate and explain drills used to maintain physicality and technique in the up-tempo system
Give you some ideas and how to implement them into your up-tempo package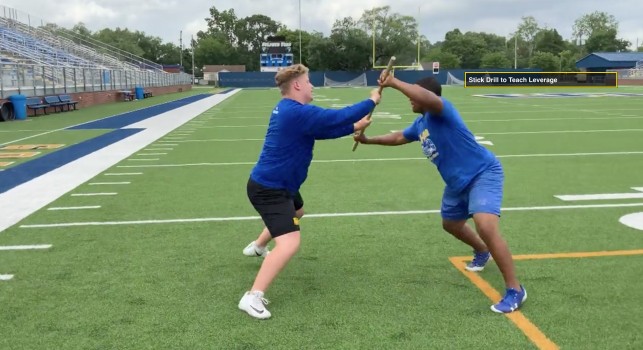 My first offensive coordinator job came in 2016 at Southwestern College. When I became an OC, I knew that I wanted to jump on board with the up-tempo, RPO offense that everyone around the country was operating, but I had no idea how to implement the system itself into my offensive line. I was worried that going fast meant too many 3 and outs, that the offensive line would become tired and play lazy and that we'd hurt our team in the long run by forcing the defense to play 2/3 of the game. And although these concerns were legitimate for our offensive staff, gravitating to the up-tempo offense paid dividends for our program both at Sulphur and at Southwestern College. Some advantages that we've found from going fast on offense are:
Keeps it simple for the players/coaches
You don't have the time to dwell on mistakes or missed calls
Makes the defense play left-handed
Forces defense to stay in their base defense which makes calls easier
More speed on Offense leads to less movement by the Defense
Simplifies reads and adjustments for your QB and OL
It allows your players to have fun and GO!
In operating out of an up-tempo system, the toughest aspect that I've found to monitor daily is being fundamentally and technically sound. I think the common knock on up-tempo teams is that their offensive line isn't physical – it's more, "get in someone's way and let the running back get 4 yards."
The one thing that we demand from our offensive line is physicality and I believe that as a unit, you can overcome a lot and cover up some mistakes if your offensive line is physical and plays nasty at the point of attack. From my experience, physicality is a learned trait that needs to be pushed every day in practice. Kids are kids and regardless of the level (1A-5A, NAIA, D3, D2, etc.), they will take the easy way if allowed. In practice, this is our blueprint for success:
An individual period should be the most difficult part of practice for your guys!
As a coach, you want to work your offensive line the hardest the first 20-25 mins of practice.
Set the expectation in pre-practice so you don't have to 'turn it on' during team periods.
If they are going out there and "walking through" the drills, then you need to change a) drills or b) your expectation