By Chris Fisk
Offensive Line
Southern Oregon
Twitter: @CoachFisk
Introduction: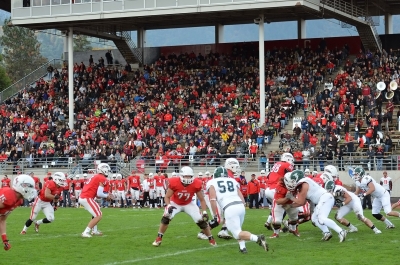 National championships are won one yard at a time. Here at Southern Oregon, we believe that each of those yards is hard won as a result of detailed technical drills. Over the past 3 years, we have averaged over 4.5 yards per play and less than one sack per game. This consistency and production is a direct result of the detailed focus we take into our drills. In this clinic report, we will look at four drill circuits that have been and will be critical to our success.

Before we get into the drills, it is worth mentioning that these drills reflect the rules that we expect our linemen to live by. Those rules include:
No one touches our QB! (From 2012 – 2014, we only gave up 1 sack for every 30 passing attempts.)

Be smart!

Bet the best!

Out-hustle everyone!

Do it the SOU way!

Block through the echo of the whistle and FINISH the play!
Each of these drills is done EVERYDAY in the spring, summer, and preseason. From there, we will do some every day and others every other day through the season. We believe these are the cornerstones to what has made us effective in all parts of our blocking game.

Circuit #1: Agility Circuit

Be great in space.

We do these because we do a lot of screens. This is done every day in the summer and every other day in the season. These skills are essential to the success with our screens.

Drill 1: Angle Cuts (cones)

We treat this like WRs. Toe in at the top of the cone and toe out with of the inside foot at the next cone. Chin over chest and chest over knees.

Drill 2: Fast Feet (cones)

We are trying to get our guys to lower their center of gravity with their chin over chest and chest over knees. This allows them to change their direction in space.

Drill 3: You Chop, I Chop (line)

This teaches our guys to identify the target, and when the target converts to a chop, they need to chop. This is a concept that we got from our special teams drills and we think it connects well to what linemen do in space.

Drill 4: Mirror Drill (line)