An Interview with Craig Kuligowski, Defensive Line Coach, University of Missouri
By Mike Kuchar
Senior Research Manager
X&O Labs
Twitter: @MikekKuchar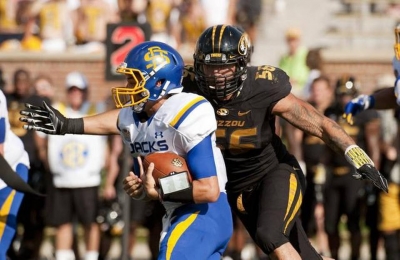 Introduction:
It's no secret that former University of Missouri defensive line coach Craig Kuligowski knows how to produce NFL ready talent. When edge rusher Charles Harris went 22nd overall in April to the Dolphins, it marked the fifth defensive lineman since 2009 that he has mentored to go off the board in the first round. It's the most of any program since that time. Now as the defensive line coach at the University of Miami, Coach "Kool" shares the methodology and drill work he uses to get his players ready to play at the highest level of football.

Mike Kuchar (MK): What makes a great pass rusher?
Craig Kuligowski (CK): Many of them have that unblockable mentality. You have to believe that they (offensive lineman) can't block you. They may come in with it (that attitude), but it gets washed away really quickly. It needs to get built up. There is no defensive lineman I've ever met that doesn't want to sack the quarterback.
MK: Why are your players such effective pass rushers?
CK: We take the mentality that if we don't know if it's run or pass we are going to play the pass. We are going to stop the run on the way to the passer. We are going to penetrate. We attack and react instead of using block reaction then find the ball. You can't rush the quarterback playing the run first. What we do drill wise, better show up on the football field.
MK: What is the pre-snap and post-snap visual landmark you use on your pass rush?
CK: The first thing they key is the ball with their periphery. The second thing they key is the screws of the helmet. High hat= pass. Block down = close the trap.
MK: How do you teach hand placement on your pass rush?
CK: Well, hands and feet have to go together. Every drill involves the hands. When we run circles, we use hands. We do the sled. We overemphasize the hands.
MK: What is the process you use to decipher which pass rush moves work for each kid?
CK: Every kid is not good with every move. We do one on one pass rush every day. I watch them to see what works better and what doesn't work. The real challenge is getting them to do what they do well and try to make them better. Instead of doing what they want to do or do every move. When you do too much, you lose. They have a tendency to try and overwhelm and opponent.
MK: Is there a set number of moves you teach? What is too much? What is too little?
CK: I teach them everything and they find the ones they use most effectively. It's really a sales job to get them to do it. It depends on each player. I see what he does. We teach power rush, club rip, club swim, chop rip and speed rush and we teach a swim. Off all that stuff we can combination into one thousand moves. We might do club and rip and hit the tricep. Now some kids are using shake club rip or some are better and stabbing the outside hand and then progressing to club rip. Or I can go club rip and the offensive line pushes my hip and now I spin back to the quarterback. We have all those combinations just for that guy.
MK: Do you cross train your perimeter pass rushers with your interior pass rushers?
CK: Yes, but some moves are more accessible on the outside.
MK: What are some problem areas that arise in the pass rush?
CK: Does a kid come off the ball or does he stand straight up? Does he expose his chest? Is he not getting off the ball fast enough? Those are the main issues I try to address.
MK: What's the mentality of your get-off? How do you coach that?
CK: You never want to go off on cadence as much as possible. You need to move on the ball. When the ball is snapped, where are you on the line of scrimmage? Have you gone past? Are you still in a stance? If you don't do that well, you can't be successful. When we're not successful, we don't penetrate.