By Shaun Weaver - @sweaver22
Defensive Coordinator
Gettysburg College (PA)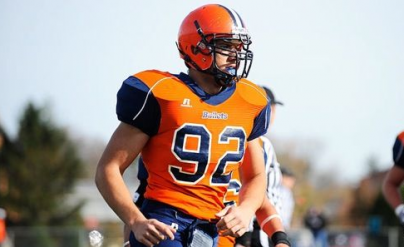 Editor's Note: Coach Weaver enters his ninth season as a member of the Gettysburg coaching staff and his eighth as the defensive coordinator in 2014. Weaver will also coach the linebackers for the seventh straight season this year. Prior to his arrival at Gettysburg, Weaver served as the defensive line coach at Bemidji State University in Minnesota from 2004-05. He also spent two seasons coaching the defensive line and serving as the junior varsity defensive coordinator at his alma mater, Wilmington College in Ohio, from 2002-03. Weaver guided his players to multiple postseason accolades at both Bemidji and Wilmington, including coaching one to All-America status at the latter.
Introduction
The C gap defender to your defensive line versus a TE is critical person in being effective at stopping a running game. With the C gap still being a focal point of attack for offenses the discussion on how you teach an inside shade player (6i) is extremely important. There are multiple options to stance, reads and reactions. This article will cover technique teaching options for your C gap players with block reactions for both options covered.
Stance
A defensive lineman's stance is vital to having the opportunity to be successful every snap. A poor stance will put a player at an immediate disadvantage. Having a good and simple stance progression to teach your players will give them a good base for having a comfortable and effective stance. The following is a partial stance progression that I currently use in teaching defensive lineman proper stance.
PRE-SNAP KEYS
Get every advantage your opponent gives you!
Before you get into your stance go through your C.A.A.R check. (Note: CAAR stands for C-Call A- Alignment A- Assignment R- Read)

Down and Distance!

Check the Formation. Remember tendencies from the game plan

Read the Man across from you for hints to the play that's coming. (White knuckles, the balance of his stance, size of splits, etc.)
Right (Left) Handed Base Stance
Feet shoulder width apart pointing straight ahead

Right foot should be back and at a toe to instep relationship

Put both hands on the ground 3 to 6 inches in front of your face mask

Pick your left hand or "Flash Hand" up off the ground and put it to the side of your face mask with your thumb pointing up in a position to strike a blow
Weight is slightly on the balls of your feet so you feel "air" under your heels

Good Power angles in your hips, knees and ankles. Do not be stiff.

Eyes up on man and Butt up slightly above head level, while maintaining flexed hips ready to explode off the ball