By Cody Crawford
Defensive Line Coach/Recruiting Coordinator
Allegheny College (PA)
Twitter: @CodyCrawAC
Being simple to the kids you're teaching yet appearing complex to the offense can feel like a Catch 22.  I believe it can be done if you truly believe in what you're teaching and know the Why and How.
Anyone who has coached college football at the lower levels knows you really have to budget your time and analyze what you'll have time to teach and even more important, what your kids will be able to retain with the time you have with them.  All this being said, we implement a system of techniques and progressions that give our players the best chance of understanding the big picture.  You don't need every one of your players to be able to dissect the defense but, if the players up front understand Why you need them to do what you're telling them to do, you'll get much better results.  We base out of a 4-2-5 Under scheme with the ability to set the front in multiple ways.  By having more of a hybrid DE/LB at one End and a bigger End who can hold up double teams we allow our front to be very fluid with different alignments and movements.  As far as our fits are concerned, even though we are a 4 down front we essentially fit the run with odd space.  What I mean by that is we will close both B gaps since we are playing with a 3 tech and a Heavy 5 tech who are B gap players.  The Nose will be responsible for the A gap and we will be softer in the C gaps with our Wide 5 technique and the backer who is opposite.
ALIGNMENT
Heavy 5 Technique:
Our End will be the bigger of the two because his base technique will essentially be a two gapper.  He aligns in a heavy 5 technique and most of the time to the field.  In terms of alignment when we use the word "heavy" before any technique that means we want our inside hand splitting the midline of the Offensive Lineman's body.  This alignment is used for a couple reasons.  First, it works against the OL's fundamentals and reduces the angles.  Secondly, it makes the guard honor the End since he is playing a two gap technique with any block at him.  We place a big emphasis on backfield alignment with our D Lineman.  This doesn't usually apply to how we align our End.  Whether the back is away or to you, we want the End to stay in the ballpark of his base alignment.  We align heavy because we are making our End responsible for the B gap.  If he gets a base or reach block he plays what we call "Indian" (Escape Inside).  He is going to trigger off the near 'V' of the neck of the OL.  We'll commonly refer to this as "key the logo".  As soon as he triggers the End should shoot his hands to his target.  Since the End is really a two gap player he should strike right underneath both arm pits with a base block compared to a shoulder cuff and near pec hand placement you see with looser alignments.
Wide 5 Technique:
Our Stud position is the guy who is more of that DE/OLB hybrid.  We count on this guy to be able to rush the passer effectively and even drop into coverage sometimes.   We want the Stud be versatile so we can be multiple in the looks we give the offense and not have to change personnel.  When we tell our Stud to align in a wide alignment that means a foot outside the outside foot of the tackle.  More specifically we tell them the outside part of the foot.  We always begin with giving our guys landmarks with their alignments.   We don't stress as much about being exact as long as you're in the position to execute your assignment.  Since we align this end much looser that means he's going to be a 1 gap player.  The Stud's alignment we adjust more with backfield alignment.  If the back is away we want him to loosen up from his base alignment.  If the back is to him we want him to tighten down to hand to foot alignment.  So his down hand on the outside part of the foot.  The Stud is going to be the edge of the defense so it is crucial he does not get reached.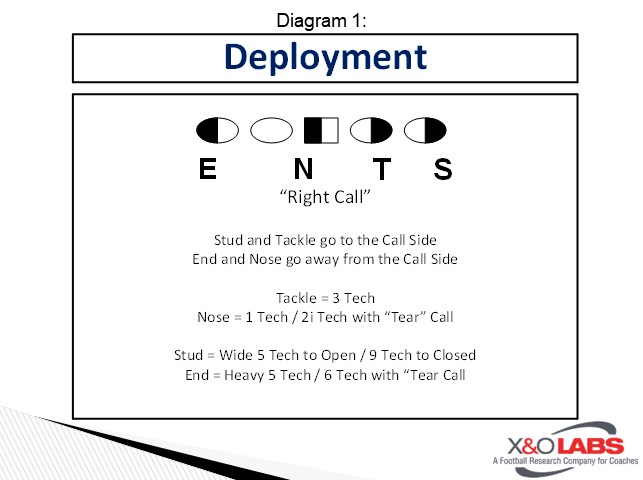 Alignment Variations
When we're talking about our base over/under fronts the alignment with a TE will depend on whether you are the Stud or the End.  The Stud will move out to a 9 technique against a TE.  We always tell them they are the edge and that is why they will always have an outside alignment and box any pulls which we will get into later.  The End on the other hand will stay in a heavy 5 technique vs a TE unless they hear a "tear call".  A tear call will be made only when the 1 tech and 5 tech are to the field.  This call is made vs any set that has a TE and two receivers to a side.  If it's a pro set (TE/Flanker) then the Rover (Nickel/Sam) will be in a 9 technique.  With #2 removed from the core we have a soft edge so we bump the End to a 6 tech and the Nose to a 2i to reduce the bubble.  The End is still playing "Indian" so he is a two gap player.