By Sam Baker
Head Coach/Offensive Coordinator
Rolling Meadows High School (IL)
Twitter: @CoachBakerRMHS
At Rolling Meadows High School, we are a 10 & 11 Personnel no-huddle spread offense.  One of our top plays has been the jailbreak or tunnel screen.  This play for us has been the play that every team focuses on stopping and because of this, we also need to have multiple names for this play as teams that have been starting are trying to steal the signal of this play.  We feel that it is easy to install and can be run from a variety of formations and personnel groupings.  This concept also allows us to get the ball into one of our playmaker's hands quickly and get them into open space.  The jailbreak screen has allowed us to be explosive against any type of defense and has been a great equalizer for us.  When we call this concept our players get very excited because they have so much confidence in it.  Typically teams call screens on 3rd and long.  We will call this concept on any down and distance and everywhere on the field.  Having the ability to call this concept anywhere on the field at any given time has made this concept very difficult to defend for our opponents.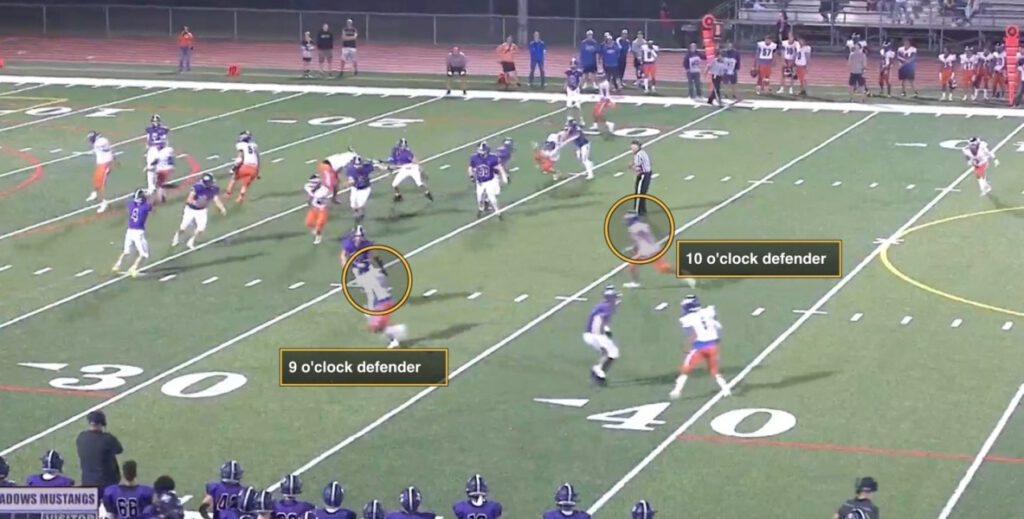 Base Rules:
Our base way of running this concept is out of 2x2 or 3x1 formations.  The base rules for the concept are our OL will block on their clock, the RB will swing away from the screen and the WRs will block one man back.  We have found that this base rule has allowed our players to play fast and have a general rule of thumb to fall back on.
Clock Rules:
This is where we feel that we have an advantage when we run screens is how we teach our OL.  Back in 2013, we used to teach the sidewalk, and alley landmarks that many teams still teach today.  What we found is that there was less flexibility depending on formation and our players would get confused when there was no one to block.  When we switched to the clock system, we found that it was more flexible mainly for our tackles regardless of formation and it allowed for our players to find defenders in their area.
In our screens, we release either 3, 4, or 5 linemen.  Our base way is to release all five linemen.  If DEs start trying to play the screen, then we will leave the tackles in.  When we make that specific adjustment it will either be done on the sidelines or during game planning. It does not matter if you release 3, 4, or 5 linemen, all the rules stay the same.  It also depends on our personnel who is the best in space. Our linemen will pass set for a two-count and then go into their clock rules. If we see on film or in the game the DL is not rushing hard and starting to wait for our screen then our answer is for our offensive line to fire out aggressively like a run play, block for a 2 count and then release.  We found this helped because it didn't change the rules on the offensive line release.
The first two linemen that release are looking on a clock for defenders.  The caveat for this is that we do have to teach the players how to read a clock.  When the first two linemen release, they are looking to see if a defender is in their clock area.  When the first lineman releases to the left he is looking to see if there's a defender at his 9 o'clock.  If there is he will block him.  If not, he will then look to his 10 o'clock and so on.  This allows us to apply this concept to a one, two, or three WR side without having to change the play.  Once the players get more experienced in running this concept than during game week we will give them an idea of how the defender will play this concept and then how to adjust their path based upon the skill set of the defender.