By James Guest
Former Offensive Coordinator and Quarterback Coach
Cocoa Beach Jr./Sr. High School (FL)
Current Running Backs Coach at the University of Tennessee - Martin
Twitter: @j7guest
Introduction: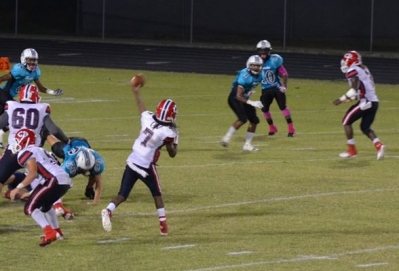 Going into this past season we knew that based on our physical size and numbers that we had to be very multiple by look, yet very simple by concept. We had a few guys that were dangerous with the ball, but a very young and inexperienced offensive line that would not be able to handle the load. So the mindset of, "If you can't block them…then don't," crept its way into the playbook.
We started out as an 11-personnel (1RB, 1TE) Pistol/Shotgun zone read offense coupled with a sprint out and quick passing game with a 65 to 35% run/pass ratio. After a handful of key injuries we transformed into a full 10-personnel (1RB, 0TE) spread attack where the ball saw more flight time at more of a 45/55% pass ratio. Did we throw it more? Sure. But the way we did was unique. We had a crafty 5' 11" 150 lbs. athlete taking his first snaps at QB who finished with 1,804 yards and 18 touchdowns. More than half of those yards were produced by our multiple screen game. This is how we did it.
Roger/Larry WR Slip Screen:
This is our wide receiver slip screen. I'm sure quite a few of you carry some variation of it on game days. We used this screen and its rules as a template to become more multiple. This is how we broke it down...
Note: We had a left handed QB, so "Larry" was the most popular.
Q:

Roger: Quick ball fake, retreat two steps, high release soft arching ball thrown at LOS.

Larry: Small open step, cross over and plant. Swivel head to target while retreating two steps, throw a soft arching ball at the LOS.

T:

Based on tagged play action.

Y:

45-degree spring block. Nearest 3rd level defender.

Z:

45-degree spring block. Far 3rd level defender.

M: