By Zach Schneider
Offensive Coordinator
Battle Ground Academy (TN)
Twitter: @MrSchneiderBGA
Introduction
Screen passes have been an integral part of our offense at Battle Ground Academy. We view our screen game as an extension of our run game, as well as way to protect our pass game. I feel we are unique in that we try to scheme our screen game. Not only do we look to throw screens versus defensive pressure, we will also game plan screens versus defensive alignment to formations. We also see screens as a great answer in the red zone.
BGA Double Screen
Offensively, we are based in 10 personnel and run various 2x2, 3x1, 3x2, 4x1, and 2 back formations. Our ultimate goal in our screen package is to be able to get the ball to any skill position on the field in various spots. The first year running this screen we had two separate screens in our offense. A tunnel screen to our front side and a quick (now or swing) screen to our backside. In the past couple years, we have meshed those screens together.
We spend a considerable amount of time during our spring practice and pre-season camp drilling our base screens. Most of this time is geared towards teaching our linemen the proper timing, technique, and assignment. We view our linemen to be the most important aspect of our screen game and once they have their timing, technique and assignments mastered, our options are limitless!
Tunnel Screen Blocking Scheme - Front Side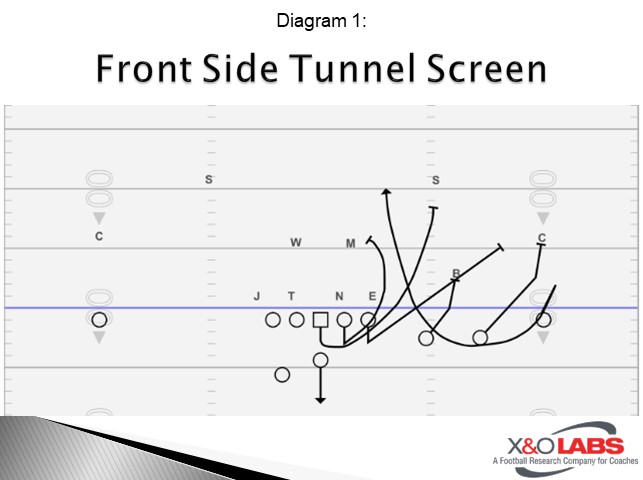 Our play side timing for our linemen is pass set for roughly 2.5 seconds and release to your assignment. One of the "teaching techniques" we use with our linemen in the spring and preseason camp is we have them sing "Mary had a little lamb" then release. This has done wonders for us and our timing, plus the kids get a kick out of it!
From a blocking assignment perspective, we use the acronym FCA for our blocking scheme on the play side. This stands for force, contain, alley.
Play Side Offensive Tackle - Our play side tackle is our "force" player. In a perfect world, his responsibility is the force defender. To simplify this assignment, we instruct him to aim for the "chains" or an imaginary point 10 yards down the field on the sideline.
Play Side Offensive Guard - Our play side guard is our "contain" player. In a perfect world his responsibility is to meet the play side ILB or MIKE. We give him an aiming point of 6 yards downfield 2 yards outside the PST.
Offensive Center - Our center is our "alley" player. His responsibility is to run the "alley" created by the "force" player and the "contain" player. The center will act as the "lead" block for the player catching the tunnel screen.