By Doug Socha
Head Football Coach
Oxbridge Academy (FL)
Twitter: @coachsocha
Introduction:
Our screen package became a big part of our offense and we mostly utilized double screens with a fast side (bubble) and slow side (sidewalk). Our most productive screens have been to our receivers. The blocking assignments up front have stayed consistent while we utilized motions, multiple formations, and used different backfield actions to simulate a "play-action screen". Using motion and different backfield actions gave our linemen an advantage with better blocking angles and leverage.
We have dedicated a "Screen Teach" period to our offensive practice twice a week for continuous teaching/reps and also scripted our screens into other team periods. This period is a half line drill focusing on the "Slow Side" element.
Additional reasons to use screens:
1. Gives a non-running QB options
2. Looks multiple by formations, shifts, and motions
3. Easy blocking assignments for Offensive Line
4. High % Passing Game, No Sacks
5. Explosive play potential (Give your best players ball in space)
6. Slow down pass rush
Screen Elements
The "Double Screen" has two elements. The QB can take the FAST SIDE if the bubble is uncovered or we have leverage. If covered, the QB will retreat and get ball to SLOW SIDE screen runner. Using motions, shifts, and play-action can also help these screens.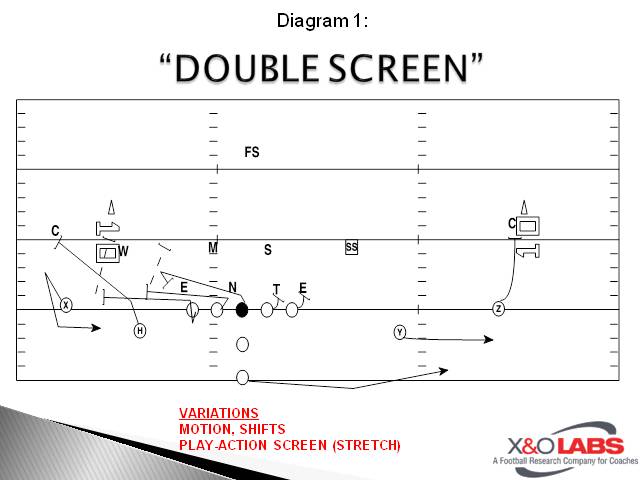 Quarterback
Pre-Snap - Determine #'s to bubble. Read the "fast side" apex defender to determine if he is taking the bubble.

Post-Snap - Throw bubble to "Fast Side" or pump bubble and retreat 3 steps and attack the slow side. Once QB determines he is taking "Slow Side", he must quickly get ball to the receiver. He must find the passing lane. If it is not open, we expect him to throw the ball into the defensive linemen's feet.