By Shawn Liotta
Offensive Coordinator
Clairton High School (PA)
Introduction: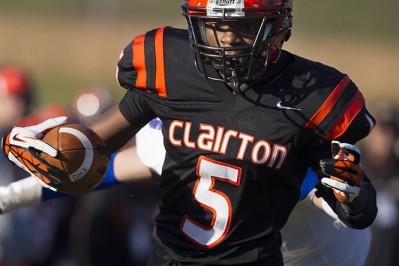 In 2014 the Clairton Bears led the nation in scoring and finished second all-time nationally with 958 points scored on their way to a 15-1 record. The Bears "No-Huddle, No-Mercy" offense totaled 8,162 total yards and averaged 12.75 yards per play with a balanced attack 3,249 yards passing/ 4,913 yards rushing.
The screen game is a key component of our offensive attack at Clairton High School. We employ a diverse and effective screen package that makes up one third of our total offensive attack. We place great emphasis on the fundamentals and execution of these concepts. That means treating screens in your offensive package the same way that you would with your running game or pass attack. Too often coaches employ screens as an exotic or off-tempo type of concept that they maybe get four or five reps of the concept in practice often during team drills. These same coaches will get frustrated when they call the Screen play in the game and it does not work due to poor execution and timing. By utilizing this screen drill daily for 10 minutes, you will greatly enhance the success of the screen package in your offense.
We utilize screens as a way to get the ball to our playmakers in space and force the defense to defend our offense sideline to sideline. We enter each game with the following screen concepts.
Fast Screens

Slow Screens

Key Screens

Double Screens

Screens Packaged with our Run Game

Suckers and Gadgets
We are an up-tempo, no huddle offense with the goal of getting the ball snapped within five seconds of the ready for play signal. This philosophy carries over to our practice schedule as we attempt to set an extremely fast pace in practice so that our games appear to slow down. This allows us to get the maximum number of quality snaps during our practice sessions, however this also necessitates our coaches to coach off of film or during our group periods such as our screen drill so that we do not slow down our pace. Our screen drill provides us with an opportunity to teach each of our screen concepts in a team setting during each practice session. We use this drill to allow us to rep each of our screen concepts in each direction during a ten-minute session where we can average seven to eight snaps per minute during this period.