By Ken Vigdal
Head Coach/Offensive Coordinator
Le Mars High School (IA)
Twitter: @kevigdal
For a large part of my coaching career, I have run the Wing T offense.  I began with a double tight formation, but through time I have implemented the gun.  We are now more into a spread-wing offense.  The reason for this change was to allow defenses to continue to put more defenders in the box.  When we made the change to the spread wing we also incorporated an RPO system to go along with our trap and belly series.  This system is how we have been able to get the ball to the outside in space.  As a tight under center team, we did run a lot of Jet Sweeps.  However, this was not going to be a big part of our offense when we decided to spread the defense out.    Based on the way the defense will play some of our RPOs, we found that Jet Sweep has become an easy and effective way to get the ball to the edges. It's been an answer for us for limited personnel upfront. It was our number one play because we didn't have to block the box.
Formation Breakdown:  
The number one formation we like to run Jet Sweep out of is a tight wing.  We prefer this formation as the defense has to be balanced up.  We can run Jet Sweep to the wing or we can have the wing run the sweep to the slot side.  The other formation we like to run Jet Sweep out of is our 20 Personnel.  With this formation, we can create a misdirection to our Sweep.  Finally, we use an unbalanced double tight formation to run jet sweep, which allows us to have three different formations with one blocking scheme.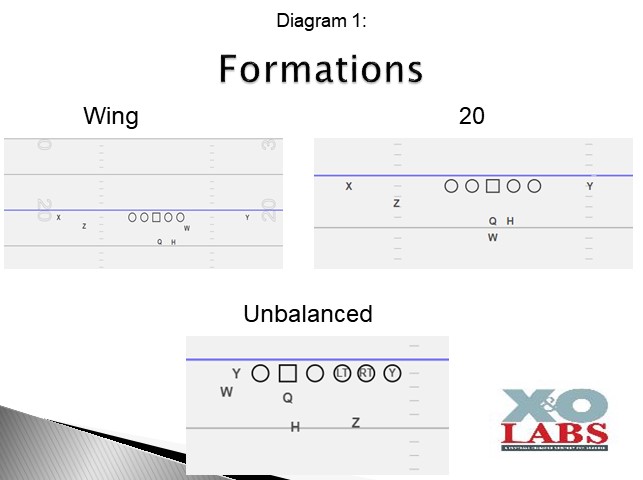 Basic Blocking Rules
PST: Reach DE, DE tight Reach step, DE wide, use a drop step, get inside arm to his outside armpit.
PSG: Reach. He will come down the line for 3 steps and then climb.
C: Reach, and climb to LB, with his reach step he might collide with DT.
BSG: Reach and try to cut off the backside LB.
BST: Reach and climb.
X, Y: Talk corner, if backside side run RPO, speed out or hitch.
Z: Sprint at 100%, receive the ball and then belly back a ½ yard and get to outside, landmarks are hash, number, side.
W: Responsible for the 9 Tech or OLB, if extra-wide run and cut off with a side block.
QB: Alignment 4 yards, 1 Shuffle step, snap the ball when the gall carrier gets to the tackle inside leg.
H: Align for success, side of the sweep, lead on OLB, or first to show.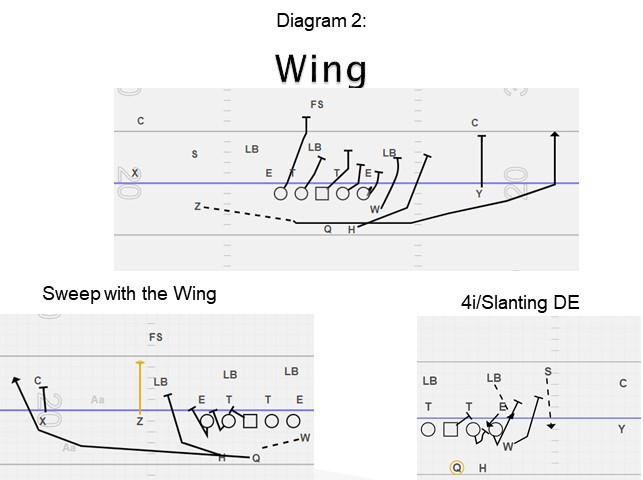 The rest of this report focuses solely on how Coach Vigdal alters the mesh in his jet sweep concept based on formation structure.