By Gerald Hazzard - @CoachHazzlec
Offensive Coordinator
Lake Erie University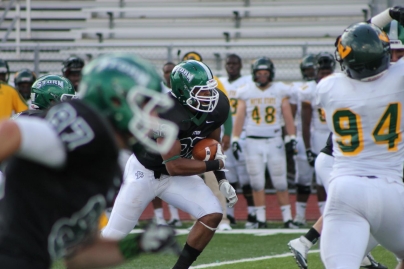 Editor's Note: Assistant Head Coach Gerald Hazzard joined the Storm coaching staff as the offensive coordinator in January 2007. Hazzard was the first assistant hired by Mark McNellie. LEU finished 2013 as the second ranked offense in Division 2 averaging 551 yards per game. Hazzard coaches the quarterbacks and has produced 18 all GLIAC performers in 4 years. A 1999 graduate of North Olmsted High School, he was a three-year varsity fullback and linebacker. The Cleveland native and his wife, Emily, married in June 2007. The couple resides in Painesville with their children Gerald IV and Lucy.
One of the first questions I always get asked is "What do you run in short yardage and goal line situations?" I always answer quickly that we do what we do best, and that is run zone. This past season we converted 35/46 short yardage situations when we called a zone play. Note: for us, a short yardage situation to us is 3rd and 4th down with 1-3 yards to go, or running a play from the 3 yard line in.
No matter what offensive system you use, I am firm believer that in critical situations you should always call the plays that you execute the best. The zone is "what we do best" because we make it that way. We spend 20 minutes a day working our zone concept with our linemen so it has to be what we do best. We believe so much in zone blocking schemes that it encompasses about 75% of our run game. In addition, we make sure that the zone play gives us a few options to get the 3 yards that we need to move the chains.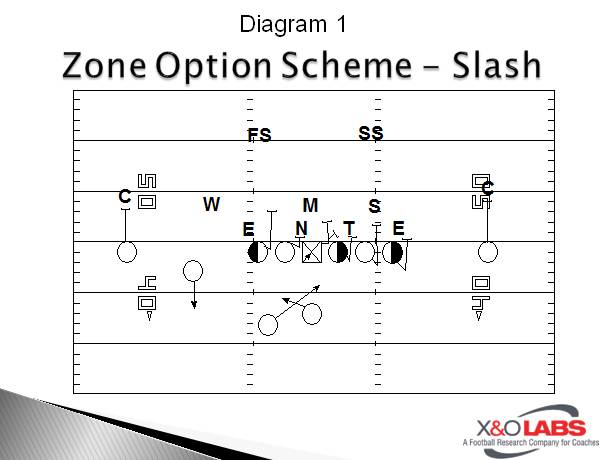 Here are a few of those concepts (some of which will be looked at later in the report):
We are a read zone team, but we have the added dimension of incorporating a pitch guy anytime our QB pulls the football. This can come from the slot or a second or third back.

We run a "full field zone" as opposed to the inside or outside zone. This concept allows the RB to take the ball anywhere from outside the 9 technique to the playside or outside the 5 technique to the backside all based on his two reads at the snap of the ball.

We teach our linemen that we don't need to drive the defense vertically on short yardage plays, we just need to make creases. If we make a crease the RB just needs to hit the hole and fall forward and chances are we will move the chains.

We will add an additional running back to lead the play if needed. These aren't traditional fullbacks, they are tailbacks that understand how to run the play as if they had the ball allowing them to read the defense and lead the back to the right hole in our full field zone.
Starts Up Front
The key to the success of our zone option game is the offensive line. When we recruit offensive lineman we are looking for kids who have great feet, can get to the second level quickly, and have a natural ability to stick like glue and finish their man. Our zone blocking assignments are the same as any team out there. Where we are drastically different is in our technique. We take what we call a 4 o'clock step with our play side foot as soon as the ball is snapped. This technique is used regardless of where defenders lined up. Absolutely, defenders will not always stay where they line up. Our 4 O'clock step will allow the defense to declare itself so our second step is always correct. We are going to line up our offensive line as far off the ball as the officials will allow us. It creates angles and we should be able to get our second step in the ground before contact is made.(Commonly referred to as a bucket step) This allows the defense to declare where they are going. Our second step which we call our crotch step is designed to split the crotch of our assignment. When these first two steps are executed properly our offensive lineman should be on a perfect course to execute their assignment.