By Ben Malbasa
Head Coach
University School (OH)
Twitter: @BMalbasa
Introduction: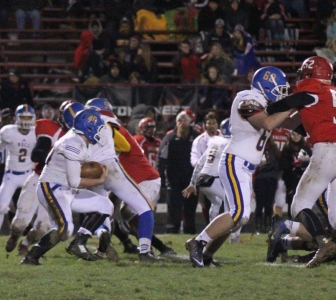 Those of us who run variations of the Spread offense are well aware of the potential drawbacks of this offensive approach. They include a lack of physicality at the point of attack, the difficulty for defensive units when they face power-oriented teams, and the inability to run the ball with a lead in the fourth quarter among others. While my experiences have taught me that these criticisms are not without merit, I believe that the benefits of an up-tempo, wide-open approach have always outweighed these occasional frustrations.

During the past two seasons, we have utilized a slot-style tight end (some would refer to him as an "H-Back", and we call him the "Y") in order to have the flexibility to create additional gaps for the defense to defend, and to make our running game more multiple. This has addressed some of the issues listed above and provided more options for us in all facets of our offensive game.

Personnel

Choosing this player is an important part of allocating offensive personnel. The ideal Y in our system is strong enough to successfully kick out opposing ends, fast enough to threaten the deep middle of the field, and skilled enough to be an effective pass catcher. In other words, our Y is a hybrid of a fullback, tight end, and inside receiver. If we have a player who fits this mold, we consider ourselves especially fortunate because it means we do not have to change personnel to alter our formations. If such a hybrid is not in your program, our objectives in the run game would dictate playing the linebacker or fullback type in the role.

Base Inside Zone Scheme

Like many Spread teams, our base run play is the Inside Zone and the Zone Read has been part of our first practice installation plan every season. In our version of Inside Zone, we teach our back to aim for the near hip of the center and read the back side A gap. If it is open, he explodes through the hole; if it is closed, he bends back to escape through the back side B gap (Diagram 1). Our running backs and quarterbacks practice the mesh and read almost every day, and we position a defender for the running back to read while attacking his aiming and escape points.