By Mike Kuchar with Brian Callahan
Run Game Coordinator/Offensive Line Coach
University of Minnesota
Twitter: @Callybrian
The Origin of "The Elephant"
Those that follow college football have witnessed the Gophers line up in six and seven offensive line personnel groupings the last few seasons. What started as a tool in 2018 to combat the ability of Wisconsin's defensive ends and has since developed into a common grouping for Minnesota. The genesis of it was in 2018 when start offensive tackle Daniel Faalele transitioned into a starter. It allowed for another lineman to be a true Y with an eligible number.
Then in 2019, the Gophers evolved into more 12 personnel and 11 personnel groupings by selecting an offensive lineman over a true tight end with eligible numbers. "We had one guy that can play every position but Center," said offensive line coach Brian Callahan. "I moved other people around but locked in Daniel. It (The Elephant personnel) became more prevalent. Next, in 2020 Minnesota used an offensive lineman to play tight end which was better for run purposes than putting an additional tight end in. Essentially, it gave them two versions of 12 personnel and two versions of 11 personnel.
Finally, in 2021 the Gophers lined up with six or more offensive lineman in 291 snaps, which equated to 32.7 percent of snaps the most in college football. They got into more of a 13 personnel package with two offensive linemen playing tight ends and one true tight end. That's created the super elongated shelf that you'll see the Gophers utilize much of its run game from.
This is the 12 Personnel Version of it: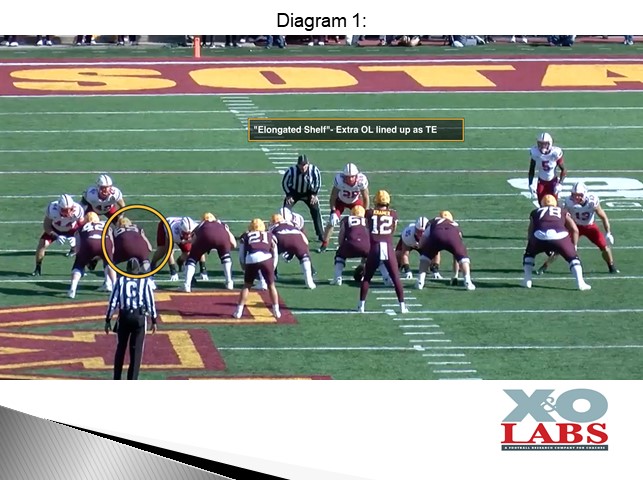 This is the 13 Personnel Version of it: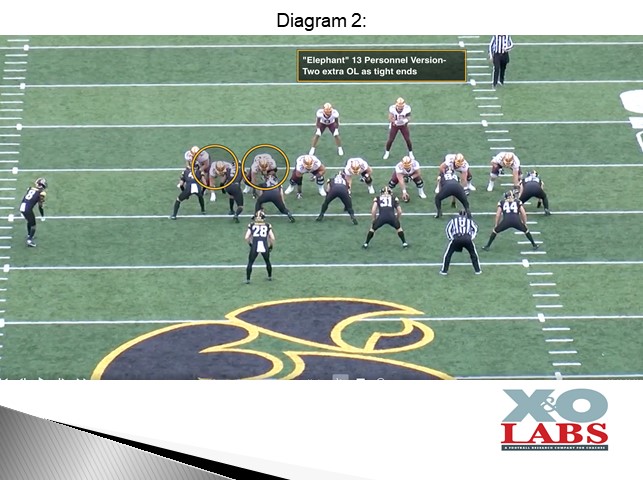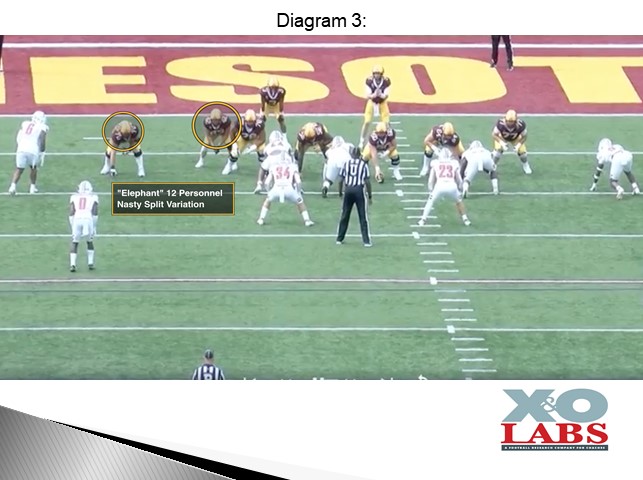 Advantages of "Elongating the Shelf"
The premise of extending the backside is to give the back a variety of possible cut points on the tight zone play. And Minnesota had the running back with the vision to be able to do that. "By condensing everything down we elongate the shelf," said Coach Callahan. "This way you get more movement on the down lineman to cram it inside. We like the stress it puts on defenses. You don't know how teams will align to it but you know they will cover every gap."
"When we add people backside to our two man surface it elongates the space and adds gaps," he said. "Defenses will have a body for every gap but the unblocked player will be further away from where the mesh happens. Hopefully you get enough dent to where either you get the ball up inside on an arm tackle or if you bend it back towards the unblocked player and you're getting positive yardage."
When the concept doesn't hit front side, it produces a myriad of possibilities backside on the over pursue. And when defenses start to counter, that is where the explosives hit. "We get a lot of overplay to the backside because teams know that is where it goes so the ball starts to hit front side," said Coach Callahan. "If you're good enough to create a longer shelf it may not be a home run but you're going to get positive yardage."