By Mike Kuchar with A.J. Hopp
Run Game Coordinator/Offensive Line Coach
Southeastern Louisiana University
Twitter: @AJ_Hopp
For several years, SELU has been at or near the top of offensive output at the FCS level. Under the direction of offensive coordinator Greg Stevens, the Lions were a top 20 offense again in '21 (439 ypg), including 197 yards per game on the ground. And they relied heavily on their base pin/pull scheme, a full speed concept to capture the perimeter of defenses. The Lions have several build-ins to the concept which we will discuss at length. But they reason why they have been so successful running it is the ability of offensive lineman to get out and block in space. This season alone, the concept averaged over six yards a carry.
Base Line Rules:
The base rules are simple:
If I'm covered head up to backside- Choke (Down) block
If I'm not covered head up to backside- Pull
Similar to inside zone, if there is a five-man box, the backside Tackle will shift to the backside linebacker. "We base the defensive end until the backside linebacker becomes a threat," said Coach Hopp.
First Puller: "Eyes Up and Inside"
The first puller is responsible for setting the edge, but he has to be coached to block support defenders who play from depth. Against immediate force defenders, it becomes a kick out block from depth (although Coach Hopp will teach an open pull).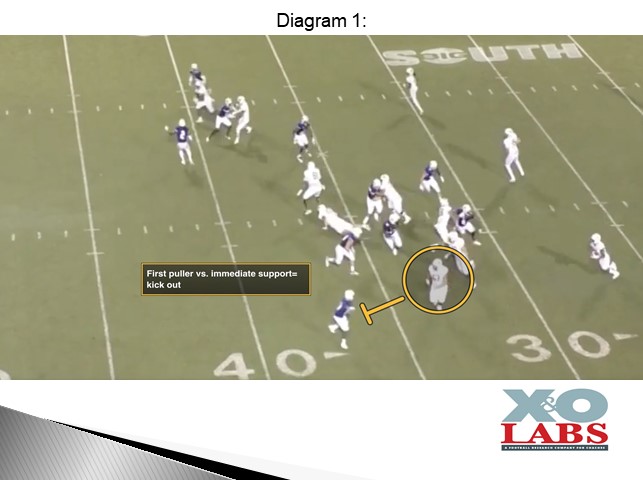 But the pin/pull is used continuously as a nub side run for the Lions, so the first puller must be taught to get his eyes "up and inside" to block the support defender if there is nothing in the flat. "In these situations, he has to adjust his angle to block the outside number of the defender, so we get the ball creased" said Coach Hopp.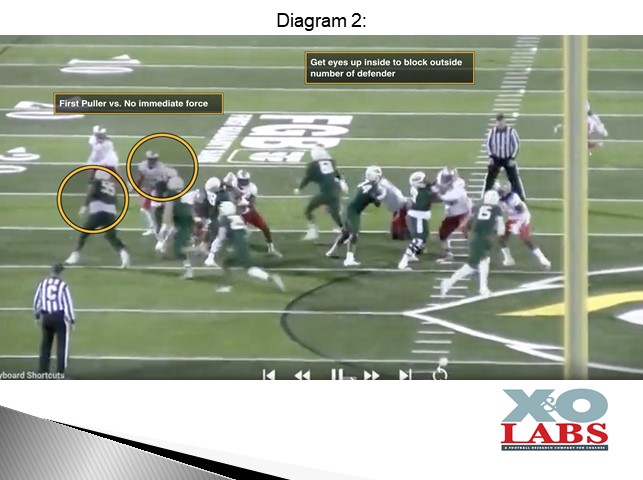 "We want to leverage that defenders as long as we can," he said. "If the ball hits outside of that defender it should be a home run."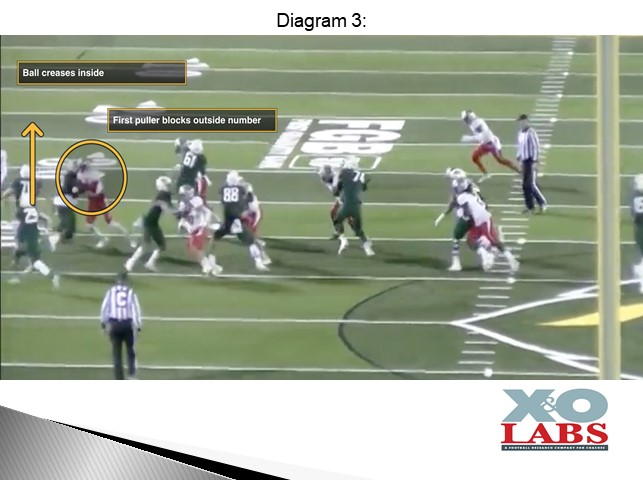 If he's trying hard to set the edge, the outside number gets him far away from the play. If we coached the inside number we are not stretching him as long as we can. I want to give the illusion of a stretch to get him to widen and give the ball carrier more room to run."
One of the advantages in using Pin/Pull as a nub side run is that often times the corner who is not a traditional run fitter, will misfit the scheme. In the image below against an Odd front, the 9-technique sets the edge and the corner fits outside him giving the offensive a two for one with their pullers on the edge.